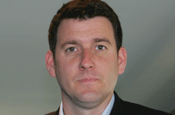 Johnston will now look at acquisition and expansion opportunities across Europe for MindShare in a bid to expand the range of digital services the network offers.
He will report to Nick Waters, the chief executive of MindShare EMEA. He joins Rob Noss, the existing Mindshare Interaction CEO, who will now share the role and manage global clients.
Waters said the agency was looking to expand from a digital media agency into a provider of more diverse digital services like eCRM and communications planning.
"Clients are increasingly looking for agencies to provide a broader range of services. [Johnston's appointment] is a step towards increasing our capabilities in that regard," he said. Johnston will also now be looking to recruit people with a diverse range of skill sets to the agency.
Johnston said: "A lot of the innovation that is happening in digital over the next few years will happen in media."
Johnston leaves Digitas London, formerly known as Modem Media, after 10 years and was managing director of Modem Media in Europe for the last three. Modem was rebranded in May after it was acquired by Digitas and following Publicis' subsequent £1.3 billion purchase of Digitas last year.
Johnson's replacement is yet to be appointed. However, Johnson who is expected to start his new role in the autumn, said he would work with Alan Rutherford, chief executive of Digitas Global, to ensure a smooth transition.