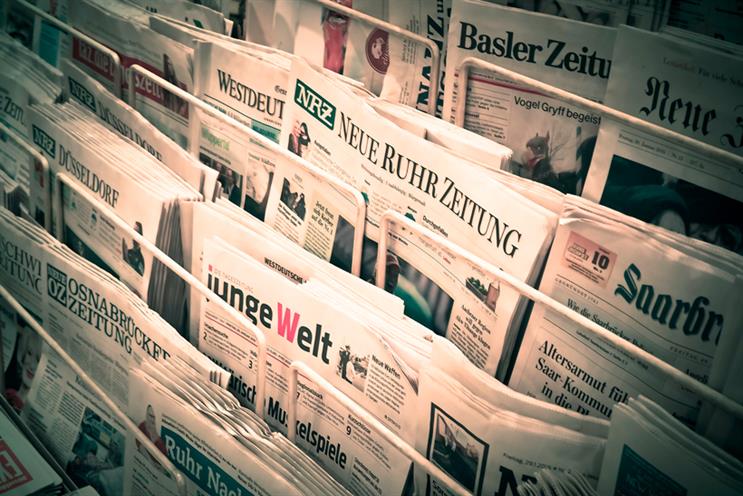 Discussions between newspaper groups about merging their advertising sales are a live issue, even if the drama of the Brexit vote is a distraction.
Publishers know they must consider new ways to arrest the decline in ad sales. Jo Blake, head of publishing and outdoor at Arena Media, warns that joint ad sales could "be needed now even more" because of the risk of a post-Brexit slump.
Falling print revenues and weakening online growth in the face of Google and Facebook's dominance over the past 18 months have focused the minds of proprietors and media owners.
The problem is that news brands are not instinctively collaborative. Witness how News UK, MailOnline and The Guardian managed to host rival parties at Cannes Lions on the same evening.
Consolidation benifits
Merging ad sales is a logical move to gain scale because there are at least eight sales houses at present – News UK, Mail Brands, Guardian News & Media, Telegraph Media Group, Trinity Mirror, Northern & Shell, ESI Media and The Financial Times. And that doesn't even include regional newspaper publishers and magazine companies.
By contrast, TV has consolidated into just three sales houses, and radio and cinema each have only two major players. All have reaped benefits.
Trinity Mirror has been among the keenest to push joint ad sales and has sounded out Telegraph Media Group, News UK and others.
Chris Locke, managing director of Publicis Media Exchange, believes collaboration "happens unconsciously already" to an extent, citing how the Mirror and Telegraph came together for an Aldi promotion.
But progress has been mixed. Trinity Mirror has pulled out of 1XL, a joint ad-sales house for digital
advertising, in which regional publishers Johnston Press and Newsquest remain involved.
Shared ambitions
Scott Gill, managing director of 1XL, is optimistic that joint ad sales can take off across the industry,
"assuming legality is established and if there is buy-in from the highest levels", he says.
"From there, a strong set of shared ambitions needs to be identified and any politics overcome, particularly around sensitive matters such as revenue allocation," Gill adds. "Collaboration would then need a robust as well as genuine value proposition, helping to combat any negative reaction provoked by perceptions of monopolisation or price-fixing."
Moving to joint ad sales might be a good idea, but no-one thinks it will be easy.
---
YES
Jo Blake
Head of publishing and outdoor, Havas Media Group
"Joining forces would provide more coverage, more touchpoints and a more compelling argument for using news brands. Media owners should move forward despite the uncertainty after the Brexit vote"
---
Yes
Douglas McCabe
Chief executive, Enders Analysis

"It makes sense to aggregate scale and simplify trading. Tech giants are winning a growing share of adspend, despite the qualitative advantages through association and context provided by news brands."
---
MAYBE
Colin Gottlieb
Chief executive, EMEA, Omnicom Media Group

"It's a very timid response. The concept of joint ad sales is helpful and may help reduce the rate of decline, but it will not stop the decline. The industry must think bigger and put the user first, like making better use of its archive."
---
YES
Chris Locke
Managing director, Publicis Media Exchange

"It would create bigger scale and opportunities; a smarter, more valuable audience story; bigger partnership opportunities; digital scale; and there would be cost savings."