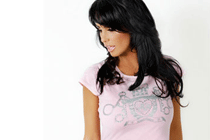 The model recently postponed the 1 May showcase of Katy Price Equestrian (KPE), which was due to take place at Derby House, Lancashire on 1 May. However, she still plans to model her new clothing range at the annual fashion mecca, which takes place in Excel, London from 29 to 31 May.
Other celebs expected to appear at the launch include radio presenters Erin O'Connor, Lisa Snowdon, George Lamb and a host of fashion and beauty experts.

The Clothes Show London will feature a 2,500 seat Fashion Theatre, where Katie Price will strut her stuff, and a host of boutiques where visitors can buy the latest fashion, hair and beauty products.
To leave a comment register and let us know your thoughts.