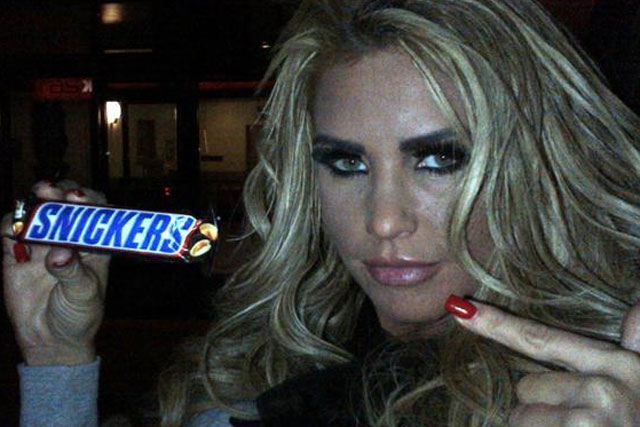 At the weekend, Price tweeted from her @MissKatiePrice account, which has around 1.5 million followers, about the Eurozone debt problems and China's GDP rating, before revealing that she hadn't been herself because she was too hungry.
She tweeted: "Great news about China's latest GDP figures!!", "Chinese leaders now likely to loosen monetary policy to stimulate growth. Yay!!", "OMG!! Eurozone debt problems can only be properly solved by true fiscal union!!! #comonguys", and "Large scale quantitative easing in 2012 could distort liquidity of govt. bond market. #justsayin".
Price then tweeted the Snickers strapline, "You're not you when you're hungry @snickersUK #hungry #spon" and a picture of her holding a Snickers bar.
Boxer Amir Khan (@AmirKingKhan) and cricketer Sir Ian Botham (@BeefyBotham) also pulled a similar stunt in activity believed to be orchestrated by ad agency Abbott Mead Vickers. BBDO.
Khan tweeted about the love of his supposed stamp collection, while Botham spoke about learning to play the Cello.
Both tweeters then revealed their part in the Snickers activity by posting a picture of themselves with a Snickers bar and the activity's strapline. Further celebrity Twitter endorsements connected to the Snickers promotion are expected follow.
Earlier this month Mars revealed it was replacing Mr T in its Snickers advertising with fellow 80s icon and 'Dynasty' star, Joan Collins.
Follow Loulla-Mae Eleftheriou-Smith on Twitter @LoullaMae_ES