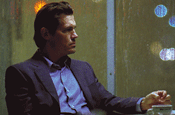 The campaign is AMV for Mercedes first since winning the account from Shop in January.

It aims to change perceptions of the Mercedes-Benz brand by focusing on personality.

The ad features a number of different actors talking about different aspects of personality including presence, attraction and ambition.

The first film, which broke this weekend, features Brolin discussing different theories of presence. The actors speaks against the backdrop of Los Angeles at night.

The first ad was written by Tim Riley and art directed by Paul Brazier. It was directed by Johnny Green through Knucklehead.

The campaign will feature two more spots that are set to break later this year. One will talk about attraction and the final film will discuss ambition.

Each finishes with the endline: "I am Mercedes-Benz'.