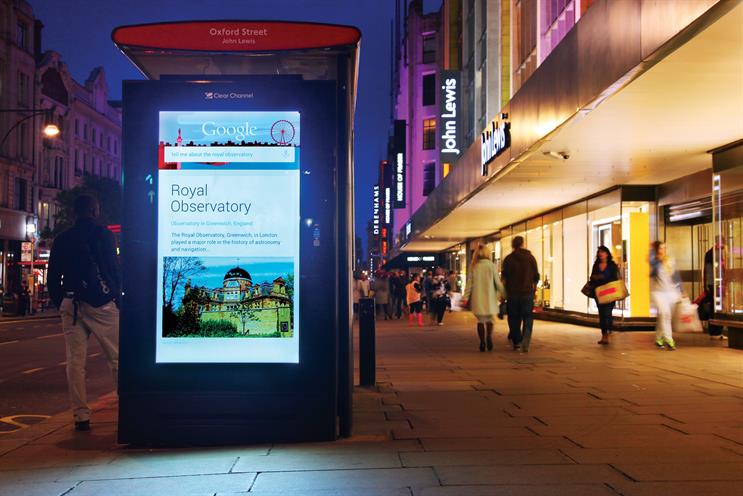 News that Clear Channel will be running the awards with Campaign for the first time was revealed at the media owner's Upfronts event last night (Wednesday 11 November).
This is the tenth anniversary of the contest, which celebrates the power of outdoor and the impact of smart planning. It was previously aligned with Campaign's sister title, Brand Republic.
Claire Beale, the global editor-in-chief of Campaign and this year's chair of judges, said: "The tenth anniversary of the awards means it a brilliant time to take stock of what excellence looks like for the out-of-home industry – to find out where the benchmark is after ten years and discover how much further entrants can go.
"As a judge, I want to see something that really makes the best use of the medium, harnessing data, making the most of location, using the interactive elements and flexibility afforded by digital technology to create something that really makes the people on the street stop and pay attention."
Google was last year's winner of the overall Grand Prize. 'Google Outside 2.0' featured dynamic ads rolled out across 1,240 digital outdoor sites in London and the South-East. Tailored content about local attractions and the weather was mixed with geo-targeted search results. The work also won Best Use of Digital.
Other categories are: Best Use of Data and Insight; Best Use of Outdoor in a Multimedia Campaign; Best Use of Multiple Formats; Best Use of Continuity and Long-Term Brand Building; and Best Use of Innovation. The Grand Prize is awarded to the best of all category winners.
Enter at clearchannel.co.uk/planningawards by 5 February 2016.