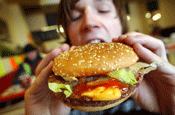 Alan Johnson, the Health Secretary, is sympathetic to demands for a ban, but James Purnell, the Culture Secretary, fears that the lost ad revenue would damage public-service broadcasting and has headed off the move for now.
Under a compromise announced by Johnson on Wednesday, Ofcom's review of the restrictions will be brought forward from December to July.
Ministers expressed concern about websites and said they would be kept under review. They kept open the option of a ban, but would prefer a tighter voluntary code if further measures are needed.