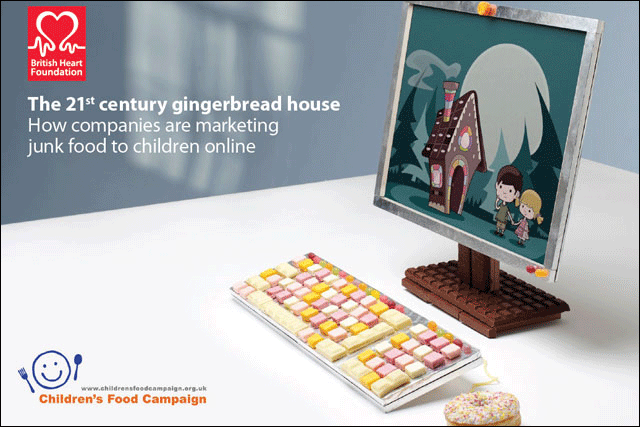 Brands under fire include Kellogg's Krave, Nesquik and Cadbury's Buttons.
The CFC was due to hand in 54 separate complaints this morning (9 February) to the ASA, concerning offending company websites promoting products that are classified as "high in sugars or fat or salt", and are clearly targeted at children.
The campaign claims the "super-complaint" was issued to the ASA after correspondence from Ed Vaizey MP, the Minister for Culture, Communications and Creative Industries, encouraging the group to lodge complaints where advertising rules have been broken.
The complaints are drawn from a report published by CFC and the British Heart Foundation in December, called 'The 21st Century Gingerbread House: How Companies Are Marketing Junk Food to Children Online', which the CFC describes as an exposé of "how junk food manufacturers bombard kids online in order to push their unhealthy products".
The report highlighted the use of brand characters, animations, games, competitions, promotions, videos and social networking sites, which it claims, clearly target and are appealing to children.
The CFC argued that none of the products complained about could be promoted during children's TV programmes because of Ofcom rules to protect children from junk food advertising, and called for consistent regulations across all forms of media.
A CFC spokeswoman said: "The pervasive nature of online junk food marketing to children really leaves us with no choice but to submit this 'super-complaint'.
"It is time for the ASA to face the music – will it or will it not act to protect children from cynical junk food marketing practices?
"This is not just our challenge, but comes from the minister Ed Vaizey, who has expressed his faith in the current self-regulatory system.
"When the picture is clear, we will inform him how the ASA has performed, so that he will be able to judge the effectiveness of the regulation for himself."
An ASA spokesman said: "The ASA will, as with any complaint it receives, carefully and thoroughly assess the concerns that the CFC raises."
Kellogg head of external communications Paul Wheeler said: "The ASA agree with us that Krave isn't marketed at children as they rejected the CFC's complaint about the brand in December last year".
An Advertising Association spokesman added: "We're used to the CFC's hyberbole but it shouldn't be confused with fact and doesn't help anyone. A balanced view of the evidence shows that the link between advertising and what children eat is modest.
"Advertising of food to children and families in the UK is already carefully regulated – including on-line – and companies own standards typically go way beyond the legal minimum," he added.