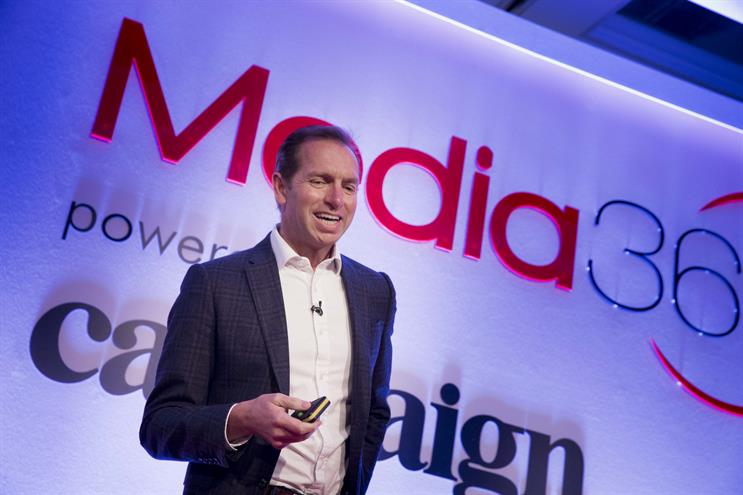 Just Eat had just gone public with a market valuation of £1.5bn and its employees felt like they had won the lottery.
"We had marketers in different countries announcing 'We're going on TV!', but when I asked them who their audiences were and what their plan was they simply didn't know. There was absolutely no rigour or governance. I had to become the fun police." Dawe told Campaign's Media360 Summit this morning in Brighton.
Further, the Just Eat brand was regarded as downmarket – a brand that no respectable restaurant chain wanted on its windows.
"It was just... red-tastic. And not only did it have downmarket connotations, it didn't have a great reputation with customers," Dawe said.
But this perception simply didn't match Just Eat's main customers – 56% of which were from the AB and C1 (working professionals) demographic groups.
"We wanted to make sure it stretched across the spectrum and didn't have an upmarket or downmarket connotation. I told David Buttress [co-founder and former chief executive officer of Just Eat], 'For your ambition, we need a brand that will house much more'," Dawe said.
Coming up with the colourful branding Just Eat is now known for, took a year and some pleading with the board of directors, Dawe shared.
"The new colourway reflected the diversity of the cuisine types and the overall branding was far more polished - which helped us talk to the branded restaurant groups that wouldn't normally talk to us," he said.
There was also a need to evolve the company's marketing message from "Don't cook, Just Eat" (below) into one that was less antagonistic to home cooks and spoke to women.
"The tone of voice for the ad that put Just Eat in the nation's consciousness was quite male and thrusting. It didn't speak to women at all," Dawe said.
To speak to a wider range of audiences, and to connect with the restauranteurs that form Just Eat's marketplace, the brand launched "The Magic is Real" – a broadway-style musical with a flying delivery man six months ago.
To add to this Just Eat also sponsored the X-Factor in a £30m broadcast deal, using its idents to showcase its restaurant chefs.
"Again, I had to go to the board for money and say I think it's the right thing to do because it gives us incredible reach and frequency over an extended period, and, it's contextually relevant for our brand. Families are watching and it's around dinner time," Dawe said. "It worked really well for us, thank goodness, or I wouldn't have a job."
Sustaining this success has taken a good deal of measurement rigour, he continued. "TV works well for us but we're always measuring and testing. This approach extends to other media too," Dawe said, adding that the brand works with M/SIX to apply econometrics so as to get a better and clearer picture on how each channel delivers for the brand.
Just Eat also uses in-house data scientists and AI-powered algorithms to target new customers, help them turn Just Eat into a habit by getting them to place three orders within 60 days, using data to offer recommendations so they branch out, and reactivating customers who seem to have stopped ordering.
This approach has contributed to Just Eat's 45% revenue growth for its 2017 financial year, totalling £546m.
Dawe also shared Just Eat's "four guiding principles for success":
Invest long-term in the brand: "Often our like-for-like competitors in markets are addicted to the crack cocaine of discounts. But, if you do that, you're promoting promiscuity with customers. Long-term is slower burn but it proves more successful."
Layered media and audience strategy and management: "Let the data tell the story. We work closely with Accenture and Karmarama to understand how to do this."
Deliver national and local execution: "While being a national brand, we also have to ensure there is enough demand into the local shops. It's our responsibility to drive volume to our partners. We should also ensure that supply and demand is matched so customers have enough choice."
Engender trust in our customers and wider stakeholder universe: "We've built an association that helps our restaurant partners have a voice when it comes to causes and legislations. We're in a privileged position we're to be able to deliver that."