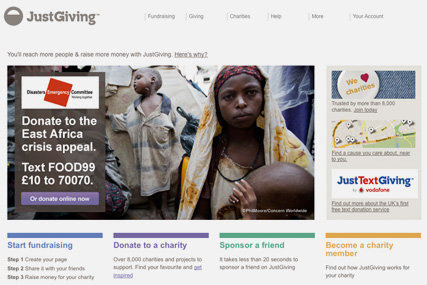 The organisation, which has not previously worked with an advertising agency, has approached a number of integrated shops regarding the work.
It is understood that Just Giving is keen on hiring an agency that can help oversee a rebranding exercise, to help raise awareness of the company's products as well as attract new members to the platform.
The work will be heavily focused around social media, as well as other innovative digital activity.
News that JustGiving is talking to agencies for the first time follows the launch of a rival offering called MyDonate, which was launched by BT in April.
Unlike JustGiving, which takes a cut of donations and charges charities for using its service, MyDonate will allow charities to collect the entirety of donations made online.
However JustGiving currently retains its place as the UK's largest online fundraising platform, with more than 9,000 UK-registered charities and 1.9 million fundraising pages.
In May, JustGiving appointed Romain Bertrand as its first head of marketing. Bertrand, who was previously head of acquisitions and partnerships at Photobox, was brought in to differentiate the JustGiving brand and develop its supporter acquisition strategy.