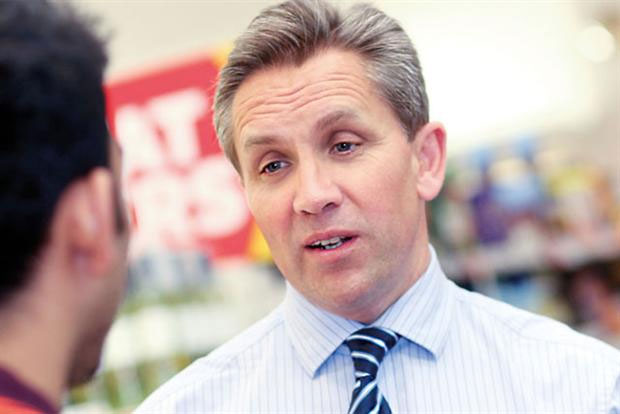 "If I am viewed as a marketer then I can be viewed as a trailblazer. We've let the numbers guys be in charge for too long.
"I'm delighted to accept this award but I've only once had marketing in my job title and that was as sales and marketing director of PepsiCo Egypt. You might laugh but it was PepsiCo's fifth biggest market in the world."
There was a naughty boy in John Hegarty and a naughty boy in me that came together at Haagen Dazs
King said that he didn't often accept awards, but this time he was persuaded by the company he'd be keeping as an honorary Fellow. The first was Keith Mills, the "power behind all of the Olympics and truly great in the marketing sphere". The second was Sir John Hegarty, co-founder of BBH.
"We used to sometimes bump into each other on the way into work - and [John's] suits certainly got brighter. But he's still a little boy and he's still raging against the machine.
"We first came across each other when I was at Haagen Dazs. There was a naughty boy in him and a naughty boy in me that came together and the result was the nude campaign of the 90s."
King said he still felt he had that energy within him.
Read our leadership interview with Justin King before he left Sainsbury's
"For the time being I'm unemployed. Even on my badge tonight it just said 'Justin'.
"Earlier I was riding a Boris Bike down Regent Street and stopped at the crossing. As someone was crossing they noticed me and said 'Ooh Justin King. I wondered what you were doing now'."
He added that, although this was his first formal engagement - and the first that warranted a tie - he hadn't had any lie-ins since leaving Sainsbury's as he was programmed to get up at 7.10. Nor had he yet taken any holidays to Machu Pichu, but a holiday could be on the cards once his next move was sorted, he told Marketing.
You're marketers so you don't really understand maths
In a parting shot to the audience, he commented on the fact that The Marketing Society only ever had 5% of its membership base as Fellows.
"For those who aspire to be in the 5%, I can tell you that's one in 20 - you're marketers so you don't really understand the maths."
The marketers who were named Fellows on the night also included:
Abi Comber, head of brands and marketing, British Airways; Dominic Grounsell, marketing director, RSA; Annabel Venner, global brand director, Hiscox; Andrew Warner, vice president of marketing, Monster; Christian Woolfenden, global marketing director, Paddy Power; Michael Magee, VP marketing, Mars; Mark Earls, herdmeister, Herd Consulting; Scott Gallacher, director, The Aston Group; John Kearon, founder & chief juicer, BrainJuicer; Alan Pascoe, chairman, CSM Sport & Entertainment; Giles Robertson, founder, Green Banana Marketing; Lindsey Clay, chief executive, Thinkbox.