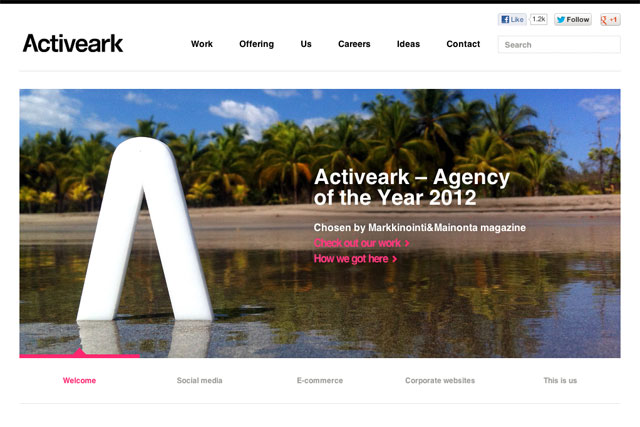 Activeark is based in Helsinki with operations in the UK and India. The agency is led by chief executive Markus Hakala, working with founder and chief operating officer Robin Bade and co-founder and lead creative designer, Kasper Hilden.
Following the deal the agency's 80 staff will be combined with JWT Finland's team of 30 in an attempt to provide a comprehensive offering for both local and international clients. The agency's current client list includes international brands Jaffa, Nokia and UPM.

Activeark's audited gross revenues for the year ending 31 December 2011 were approximately €8.1 million, with gross assets of approximately €3.4 million.
This acquisition is said to continue WPP's strategy of investing in digital capabilities and its commitment to developing its strategic networks throughout Europe. The group's businesses in Scandinavia, (including associates), generate revenues of over US$500 million and employ nearly 3000 people.
WPP's digital revenues currently total around $4.8 billion, representing more than 30% of the Sir Martin Sorrell-led group's total revenues of $16 billion. WPP has set a target of 35-40% of revenue being derived from digital in the next five years.
Three weeks ago, WPP bought a mjority stake in the 17 year old digital agency AKQA for £350 million ($540m).
Follow Arif Durrani on Twitter: @DurraniMix