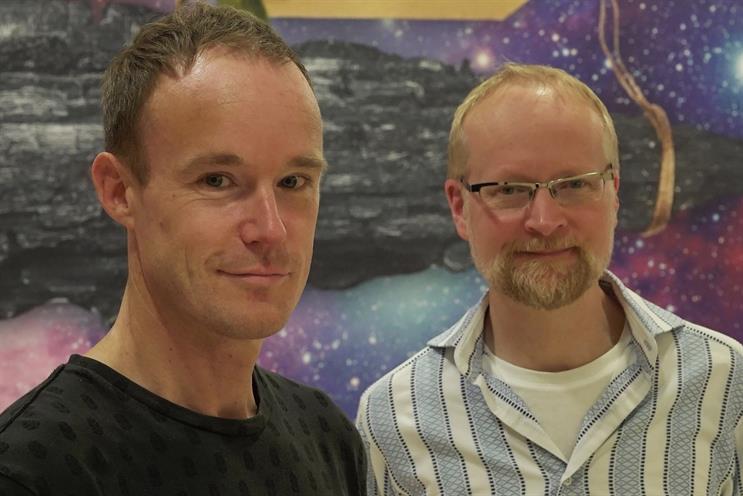 Grayson Perry (whose work for the project can be seen below), Sir Antony Gormley and Cornelia Parker were among 25 artists who used ashes from The Glasgow School of Art's Mackintosh library, which was destroyed in a fire in 2014, to create new works of art that were auctioned at Christie's in March to help restore the building. The idea was the brainchild of Hartley and Hepworth, creatives at J Walter Thompson London.
Where did you get the idea?
Chatting over our first cuppa of the day. We'd both seen news footage of the fire ripping through the Mackintosh Building and wanted to help out.
We hit on the idea of sending charcoal from the fire to artists. It seemed a good way of harnessing the grief and talent of the art world to raise money and publicity to rebuild the school.
How did you make it happen?
With a lot of charcoal and a lot of help from our colleagues Jonah Werth, Lynsey Houston, Kate Duncan and Sophia Redgrave.
We were met with huge enthusiasm from the school and the promise of a steady supply of charcoal. We then compiled a wish list of 25 artists. The aim was to produce a diverse body of artwork, all executed with the same raw material.
Did you encounter any obstacles?
We discovered that the upper echelons of the art world are impenetrable to outsiders. We needed something that would bypass the gallerists and gatekeepers, and really touch the heart of even the most charity-fatigued artist.
Sending out burned fragments of the school did the trick. As one artist said: "Receiving the charcoal was like receiving the ashes of a dear friend."
Were you nervous on auction day?
The auction was terrifying. It was the climax to two-and-a-half years' work. The days before were dominated by wrangling over reserve prices. It was an eye-opener.
On the day, there was nothing we could do except watch while Christie's slick operation swung into action.
Was it a success?
As the dean of The Glasgow School of Art said after the auction: "You've just raised £706,000 that we didn't have 45 minutes ago."
There were bids from 28 countries, and in the days before the auction the "Ash to art" project had shared gallery space with the likes of Bacon, Rothko, Basquiat, Picasso and Lichtenstein.
We couldn't believe we'd pulled it off. Some of the artists, including Anish Kapoor, have even created additional pieces, which should take us over the £1m mark.
What's your next big idea?
Something that doesn't take two-and-a-half years to execute.