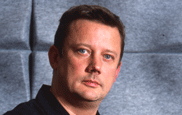 Ramsey, who has been at BBH for 17 years, will start at JWT in September. The agency has been without a creative chief in its London office since Nick Bell was ousted from the role in January after a troubled year of account losses.
Ramsey joins chief executive Alison Burns and global planning director Guy Murphy, who has assumed the London duties of the outgoing planning director Hugh Duthie, on the JWT senior management team. Both Burns and Murphy are former colleagues of Ramsey's at BBH.
Ramsey said: "I've had a brilliant time at BBH, but it's time for a new challenge. I'm hugely excited about JWT-it's got some great brands and I'm looking forward to putting in to practice what I've learned at BBH."
Burns added: "This partnership is the most important there is in leading any agency and I've taken my time to find someone who I'm really committed to working with. Russell is the perfect candidate."
Ramsey, an art director, began his career at Saatchi & Saatchi before joining BBH with his copywriter, John O'Keeffe, in 1990. He was the lead creative on a number of accounts and was the creative director behind the agency's "bull" spot for Audi and "twist" for Levi's.
He has been closely linked with a number of similar roles in recent years, including positions at WCRS and Euro RSCG London.
O'Keeffe said: "Russell has been a part of BBH for 17 years. He has contributed to some of the agency's most awarded work. His decision to move on is a sad one for us, but a very natural one for him. I'd like to thank him personally for his contribution over many years. JWT is lucky to have him."