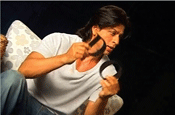 Two gold Lions and one silver went to the UK - to JWT (Anti-Slavery for MTV Foundation), The Communications Agency (Give a Few Bob for The Prostate Cancer Research Foundation) and Ogilvy (Ashtray to Vase for Cancer Research UK) respectively.

Costa Rica made a splash with JWT San Jose scooping a gold and two silvers with the 'Do It With A Car' campaign for client Nelka Rent A Car. The gold-winning ad was the closest runner-up for the Grand Prix.

JWT India, Mumbai has picked up the trophy for a full-page direct response ad that Bennett Coleman & Co.'s The Times of India ran in its own paper, urging the educated middle-class to stop complaining about the country and do something about it instead. It asked people to sign up by email.

From the staggering 34,000 people who registered with the campaign, eight were selected in a "Pop Idol"-style contest and finally, a winner chosen. He has been awarded a study scholarship and, amazingly, is now expected to run for Prime Minister. The Times also gave $100,000 to fund a social project. The other seven finalists have taken active roles in politics and community affairs.




Newspaper ad provoked 34,000 responses

"On the second day of judging, some jurors called me and said they didn't know how to judge this thing. That was when our attention was called to it," said jury president Marcio Salem, creative director of his eponymous Sao Paulo-based agency. "We were looking for communication to move people; this moved an entire country." He said it was a campaign that went "beyond the line".

Juror Mauro Alencar, ECD of Publicis Modem, San Francisco, said the choice of Grand Prix winner was in the festival tradition of "raising to the top paradigm-shifting campaigns; those that are more than just cool.
"This is beyond anything we have seen."

JWT London's gold-winning campaign for MTV sent CEOs what looked like an investment portfolio mailing but which, in fact, made the point that they are the ones in a position to change working conditions around the world.

The Communications Agency's mailing for the Prostate Cancer Research Charity appeared to have been sent by the late Bob Monkhouse and Ogilvy's Cancer Research UK campaign involved recycling ash trays and making them into vases which were sold on eBay to raise money for the charity.