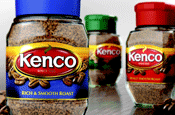 Kraft Foods, Kenco's parent company, called a review of the account in April.

It approached the roster agency Euro RSCG and Beattie McGuinness Bungay to submit creative work after JWT, the incumbent for the past 15 years, put forward two ideas that went into research.

Ideas from Euro RSCG and JWT then went into a final stage of research before JWT was selected as the winner.

The agencies were briefed to review the Mr Makousa character, which featured in recent JWT ads and was played by the Rising Damp star Don Warrington.

The ads also feature a gap year student, renamed "Mr Gap Year" by Makousa, struggling to understand the Kenco business and ethos.

Sales of Kenco increased Sales of Kenco increased by 2.3 per cent in 2007 to £96 million, according to figures from the 2008 Checkout Nielsen Top 100 Grocery Brands report.