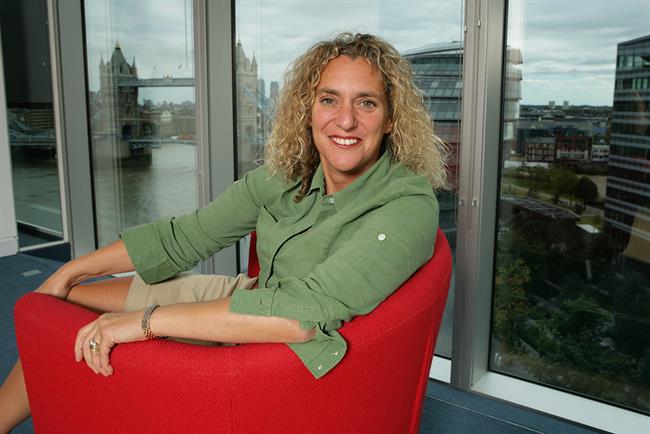 If there's one thing everyone agrees about Tamara Ingram, J Walter Thompson's new global chief executive, it's that she doesn't lack for energy — not for nothing is her nickname "Hurricane Tam."
Ingram took the chief executive job Thursday in the immediate aftermath of Gustavo Martinez's resignation.
The incumbent CEO stepped down after he was accused of making sexist and racist remarks in a discrimination lawsuit filed by the agency's global chief communications officer, Erin Johnson, a week earlier.
Ingram had been WPP's chief client team officer, overseeing the network's 45 global account teams. And, despite the murky circumstances of her promotion, adland's verdict on Ingram is decidedly bright.
"She's brilliant," said Lucy Jameson, Grey London's chief executive. "Everyone will say this … but she's a force of nature. Her nickname is 'Hurricane Tam.' She'll be a breath of fresh air in a fusty dusty agency like JWT.
"Tamara's a real troubleshooter. She will fly around the world and get stuck in. And clients love her, of course. She's really going to shake things up."
Sarah Golding, the joint chief executive of CHI & Partners, has a similar view on Ingram: "She's formidable — clever, determined and takes no shit. Someone I would definitely want fighting my corner. One of the industry's largest characters and as bubbly and energetic as her hair."
Ingram began her career in 1985 at Saatchi & Saatchi — an agency she would be appointed to run as chief executive (jointly, with Adam Crozier) a decade later when Charles and Maurice Saatchi splintered and formed M&C Saatchi.
It is little wonder, then, that a woman who rose to the top of Saatchi & Saatchi in the '80s and '90s is described as a force to be reckoned with.
In 2001 Ingram left Saatchi & Saatchi amid a restructure and joined McCann London as chairman and chief executive. She left after two years to run WPP's Kantar division, before moving to Grey London two years later to become the UK group chief executive.
At Grey, Ingram renewed her relationship (established during her Saatchi days) with Procter & Gamble, overseeing WPP's global relationship with the client while simultaneously running Grey London. Indeed, Ingram's core strength has always been handling global accounts.
"She's a proper — and I mean this in a good way — old-fashioned client person in that she knows the client's business better than they do – she absolutely nails that," said Chris Hirst, the European and UK group chief executive of Havas, after commenting on her energy, naturally.
In 2007, Ingram left Grey to focus on Procter & Gamble as the president and chief executive of WPP's Team P&G. She was promoted to chief client team officer in May 2015.
"Our paths have crossed a number of times over the years," say Richard Huntington, Saatchi & Saatchi London's chief strategy officer about Ingram, "and my heart jumps."
"What's been quite a gloomy episode in advertising's history has had something good come out of it. JWT could have put Toby [Hoare, the European chief executive] in the job as an interim but [promoting Ingram] is a brilliant play.
"She just has this phenomenal, Duracell bunny energy that very few people have. She's also brilliantly well connected.
She's got a warm personality, as well as a great WPP pedigree, so she'll be able to do a good job for JWT within WPP. She knows the network from the top down and knows how it all works – she's a real WPP player."
The only criticism of Ingram came from a source — who asked not to be named — who said she was sometimes indecisive. For balance, it is worth mentioning that even this criticism was mentioned while painting an otherwise positive picture.
Indeed, it's not hard to see why Ingram was picked for the job. Her client handling expertise will be needed to minimize the fall-out from the allegations against Martinez. Although how Unilever, one of JWT's oldest and most important clients, will react to the appointment of a CEO who has been in the bosom of its biggest rival, P&G, for so long is a fascinating side issue.
Ingram also appears to have WPP chief executive Sir Martin Sorrell's implicit trust. The pair have a long history and when Sorrell was asked to speak at a Wacl dinner, it was Ingram who gave the vote of thanks at the end.
But, even with the backing of Sorrell, will the circumstances surrounding Ingram's ascension affect her ability to perform her job?
"I don't think so," says Jameson. "There's always going to be eyes on someone coming in at that level and you just can't argue with this decision. They've silenced the critics pretty well."
This article first appeared on campaignlive.co.uk.