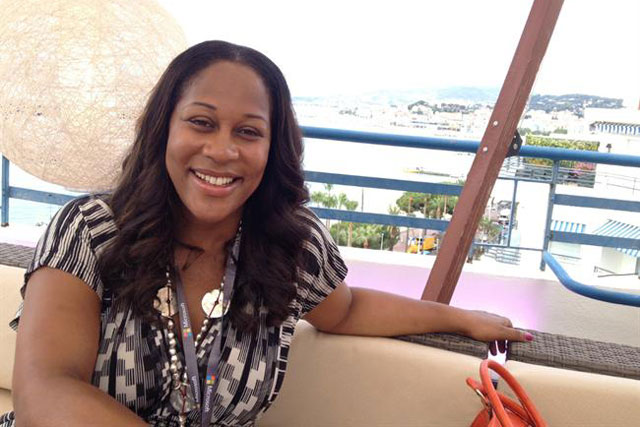 For the past three years, the 42-year-old leader has cut a swathe as leader of WPP's MediaCom, the UK's largest media agency.
Blackett is used to the pressure and the limelight as the leader of MediaCom's 900-strong staff, handling annual media expenditure in excess of £1.1 billion, but recognition from Her Majesty the Queen for services to the media communications industry at the weekend has taken it to a whole new level.
"It's been truly, truly amazing," she says. "And completely unexpected. I have absolutely no idea who nominated me. It's lovely."
Blackett is well known in the industry as the chief executive handling the biggest media portfolio in the business, with clients ranging from Coke to BSkyB and GlaxoSmithKline to Volkswagen.
What is less known about the leader of Campaign's Agency of the Year in 2013 is her journey up to receiving an Order of the British Empire.
A path less travelled
The daughter of first generation immigrants from Barbados, her late father initially worked as a bus conductor and then an engineer, before retraining to be a plumber and an electrician.
Described as "a normal, working class guy", he married her mother, Eileen, who worked as a nurse for 45 years. Blackett, who has an older sister Sue, says: "They both just believed in hard graft and taught us the same.
"My dad had always said 'learn, earn and serve'. Meaning learn your craft, earn your money and then give back."
The smiley, striking chief executive of today was made in Reading, a town she still describes fondly as "mini Barbados", due to the community of immigrants with British citizenships who settled there in the mass migration of the fifties and sixties.
Her mother still lives there and, says Blackett, probably has the OBE plaque already up in the front room window.
Blackett driving change at MediaCom
At MediaCom, since becoming chief executive three and a half years ago, Blackett has helped launch the first government-backed apprenticeship scheme for the creative industry offering an NVQ in marketing and communications.
Through the initiative, she became one of the scheme's ambassadors. "Trying to diversify the industry is the only way you are going to future-proof it," she says. "I'm more than happy to be vocal and talk about that. We've done a lot about role modelling, so people know it's possible.
"I know when I started in the industry, you could count the number of people who were black or from any ethnic origin on one hand."
Blackett does not place the blame solely at the door of the industry, however, saying it is about educating people about the opportunities out there, and expanding their horizons.
"[Advertising] wasn't an industry really known," she says. "West Indian families, like many Asian families, wanted their kids to have a profession - accountancy or a lawyer or a teacher, or a doctor. When it came to advertising my mum and dad didn't have a clue what that was. They didn't know anybody in there, so there wasn't really anyone to guide you or to get advice from.
"I just remember thinking it was really flipping strange that there wasn't more people from ethnic minorities working in the industry, especially when Britain is so multicultural; I just thought it was odd."
In April this year, the Institute of Practitioners in Advertising updated its Diversity report with an in-depth look at Britain's changing demographics. The report highlighted an ongoing information gap between clients and agencies when it comes to communicating within an increasingly ethnically diverse society.
The report also highlighted the slow progress being made towards making the UK advertising and media agencies better reflect the country's diverse population. The percentage of staff from ethnic minorities is currently estimated at 13 per cent, compared to London's wider ethnic mix of more than 30 per cent.
Blackett said: "Going forward if we want talent in the industry and we want the business to thrive and survive, I really believe we should have a workforce that better reflects the society in which we live.
"It has to be more diverse in terms of gender, religion and race. At the end of the day, you're trying to sell brand and products to everybody that lives here, so understanding the population is key."
MediaCom's own Black Asian and minority ethnic (BAME) representation has risen from 12 per cent to 19 per cent during her time in charge.
"That slow, gradual shift will be a good thing because it will be sustainable and it will last," she says. "And the industry as a whole has got better as well, but we still have a lot to do."
A champion for women in advertising
Blackett is also a strong advocate for women in the industry, which although not a minority in the sense of population, have only recently started to have their voices heard.
She says: "I think the skillset of women in terms of having diplomacy, of being able to have people follow, to being able to build empathy, is really valuable and I do think that's the reason why women, given the chance, do so well."
An active member of industry club WACL, Women in Advertising and Communications London, Blackett says the first email she received on Saturday morning was from Cilla Snowball, MBE, the group chairman and chief executive of Abbott Mead Vickers BBDO and fellow WACL member.
"She's just such a lovely woman, and is a typical woman in the industry who just throws the ladder down and is actively trying to pull you up it; just so gracious and so lovely."
As a single mother of a delightful four-and-a-half-year-old boy, Isaac, Blackett is "immensely grateful" for the structure at MediaCom, which positions itself around the banner "People first, better results"; it enabled her to succeed as CEO.
She says: "I think when women have babies and come back, it's about companies understanding people's life blends, and knowing how that life blend changes when you have a child and adapting what we ask people to do to that life blend. I think it's really important."
Among the masses happy to celebrate Blackett's recognition this week, and someone who knows what it's like to be recognised by the Queen, is WPP's indefatigable chief executive, Sir Martin Sorrell, who called it "very well deserved", and said of Blackett "a role model".
New challenges beckon, but don't rule out a move into politics
So what's next for Karen Tracey Blackett? She was short listed for the prestigious Veuve Clicquot Business Woman Award and was voted the fifth-most-influential black person in the UK in the 2014 PowerList, ahead of Chuka Umunna, the shadow Business Secretary, Baroness Doreen Lawrence and Conservative MP Adam Afriyie.
"Dame Blackett has a nice ring," she half jokes. But those who know her best say she's always wanted to give a voice to people who do not necessarily have one, and Blackett admits politics is "still something that really interests me".
"The brilliant things about what I've done outside of MediaCom have taken me into circles of people that I wouldn't normally have had access to," she says. "Whether that's speaking at the House of Commons, meeting [MP] Diane Abbott, or working with Boris Johnson on the Apprenticeship initiative."
But Sorrell and Blackett's close senior MediaCom colleagues, Jane Ratcliffe, Claudine Collins, Sue Unerman and Josh Krichefski, need not immediately worry, her commitment to MediaCom remains.
"It's always about the challenge, and MediaCom has always thrown challenges my way," she says. "When I was a business director I didn't see myself becoming the marketing new business director, and then that happened.
"Then from that going to the EMEA role was a completely new learning curve. Then coming back from EMEA to run one of the biggest markets in the network (UK), that's been amazing.
"As you can see from this week [Cannes Lions International Festival of Creativity], our world is changing so quickly, who knows what will be next. At the moment there's still lots to do, I don't feel like I've done enough yet. For me, it's always about the next challenge and legacy.
"I want to be challenged all the time, but at the same time you want to make sure that when you look behind you that there's a legacy there as well."