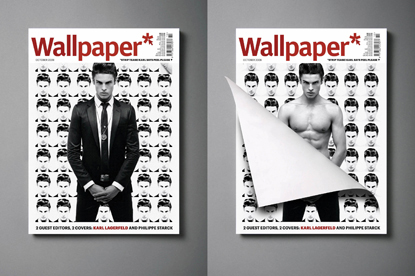 Both designers have created their own versions of the same issue.
Lagerfeld's cover features the fashion designer's muse, model Baptiste Giabiconi, dressed in Dior Homme. Readers can peel off this image to reveal another that shows the model without any clothes on.

Starck's issue has three layers of transparent tracing paper, each with an image representing a different stage of evolution.

Absolut Vodka has produced a double-layered ad for the outside back cover, which promotes its Rock Edition bottle.

Wallpaper* says that the technologies used for the designer's covers have never been used before on magazine covers.

Wallpaper*'s editor-in-chief, Tony Chambers, said: "Like their illustrious predecessors, Lagerfeld and Starck have made full use of their prime piece of Wallpaper* real estate. Both have stepped out of their creative comfort zones to challenge our preconceptions as well as their own. It is a fascinating, contrasting portrait of 21st-century genius and they have both delivered outstanding projects that are memorable and collectible. Their covers have pushed the boundaries of magazine design and production: the art of ink-on-paper manifest.

The guest-edited October issues of Wallpaper* is on the newsstands on 10 September.