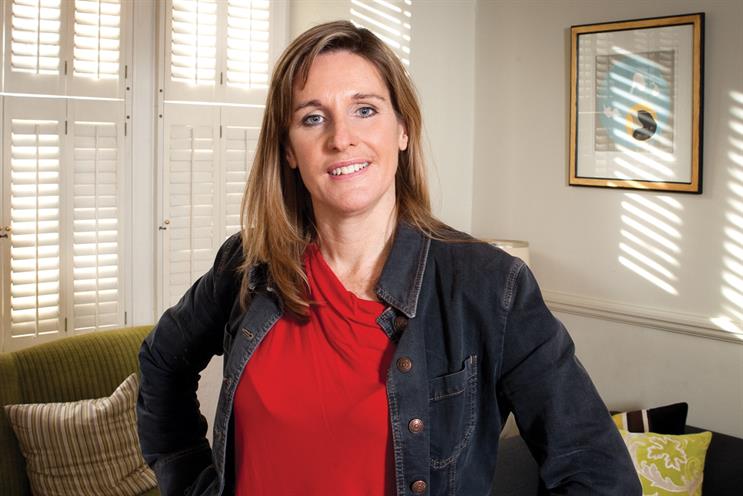 You may not have met Caitlin Ryan, but you might just have drunk her coffee. The new executive creative director of Karma Communications Group, the parent company of Karmarama, part-owns three independent cafes in London, including Fitzrovia's Lantana in the heart of adland.
Her culinary ventures demonstrate a risk-taking resilience – Lantana takes its name from "a hardy invasive weed that thrives in unlikely environments" – that Ryan says appeals to clients. "It makes a difference when I'm voicing my opinion," she explains. "I think it's because it gives me a perspective of running my own small business, with some skin in the game."
Ryan also has shares in Karma, where entrepreneurship is encouraged. Having started her career on the graduate programme at McCann Erickson in her native Australia, she was hired by Karma after 14 years at Proximity, where she was the executive creative director from 2005.
Her remit at Karma lets her draw on creative output from the company's growing stable of businesses, including the flagship creative agency Karmarama, the PR shop Kaper and the team from the recently acquired social media agency Grape Digital.
Ryan says it has been a culture shift, swapping the larger Proximity for the quirkier Karma – which comes complete with an inflatable Buddha and a life-sized plastic llama in the office, as well as a policy of "not employing wankers".
She is itching to shape Karma into a truly integrated offering – something she feels the UK hasn't yet cracked. "You can tell there are still egos and silos," she says. "Really great integrated work is coming out of Australia and the States, but you don't see it in the same way in the UK. It won't happen while there are still separate P&Ls for digital and advertising agencies."
For Karmarama clients such as B&Q and Costa, she wants to achieve that oft-quoted supreme goal of "integration" – banish the practice of starting with a TV spot, then adding digital as an afterthought. Her background in direct marketing means she is also devoted to the brand-consumer relationship, which she likens to going on a date: "If you're going to engage someone, you talk about what they want to talk about."
Ryan's cross-disciplinary mission is central to Karma's future, according to Ben Bilboul, the group chief executive. "She understands the entire customer journey, so knows how to blend broadcast advertising with direct, personalised, database marketing," he points out. "There are very few people out there who can do that, which is why we wanted her to work at a group level."
Former colleagues sum Ryan up as an "authentic" leader who fosters talent in her teams but tolerates no nonsense. "She leads from the front, but will bring people with her rather than standing on a platform and pointing at people. It's a style that won't work for everyone, but she delivers it very effectively," Proximity's chief executive, Mike Dodds, says. "She's collaborative and nurturing, but she has that Australian directness. The combination of the two is very interesting."
Ryan is a passionate advocate for increasing the number of female leaders in creative departments, thanks to her rare status as a female executive creative director. Karmarama has four women out of some 30 creatives, for example. Ryan rejects the suggestion that macho behaviour scares women away from creative roles: "That's bullshit. I'm Australian; I can cope with a laddish environment." (Dodds attests to this, saying Ryan was "out drinking with the boys and partying hard" in her early days.)
The real blame lies with agencies that don't offer enough support for working mothers, Ryan argues. Motherhood is "often the breaking point" when a woman's family and career take off at the same time. Ryan considers herself lucky – she has always worked four days a week and is an active "on the school gates" mum, sourcing many of her ideas in her job from her life as a parent.
Ryan's vocal support for women may help fill the space left by Nicola Mendelsohn, Karmarama's former executive chairman who raised the agency's profile by championing women through her vigorous networking and IPA presidency. The departure is an undeniable loss, Ryan says, but other strong characters mean the company "will be fine" post-Mendelsohn. This includes Dave Buonaguidi, Karma's chief creative officer whom she is partnering and describes as a "mad, creative genius".
In the eyes of some, Ryan has more to prove than others in her position due to Karmarama's policy of not entering awards (with the exception of effectiveness gongs). She is well aware of those who suggest the strategy may be a convenient ruse, implying the agency would not have a full mantelpiece if it did take part. "My motivation is to make sure Karmarama does the type of work that makes [rival agencies] say 'Thank God they don't enter awards,'" she smiles.
For now, a few weeks into the job, Ryan is feeding off the buzz of a company that is excited about its future – the test will be to bring that future into being.