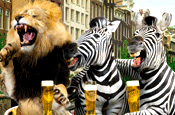 The posters each feature an incongruous collection of animals which would normally kill or run from each other, enjoying a pint together

The idea is to appeal to the Amstel drinker that is "so chilled they get along with anyone".

In one execution a killer whale is seen laughing and drinking alongside three seals, while in another ad two zebra's share a joke with a lion while supping their beverages.

Each ad features sights from Amsterdam in the background and carries the strapline: "Chilled from Amsterdam"




Credits

Project name
Chilled from Amsterdam
Client
Lucas Bergmans, Heineken UK
Brief
Amstel invites drinkers to experience the sociable and relaxed drinking culture of Amsterdam
Creative agency
Karmarama
Copywriter
Tom Woodington & Robin Temple
Art director
Tom Woodington & Robin Temple
Planner (creative agency)
Fern Miller
Media agency
Mindshare
Media planner
Simon Lonsdale
Photographer
Alex Howe
Exposure
Outdoor in proximity to pubs and clubs