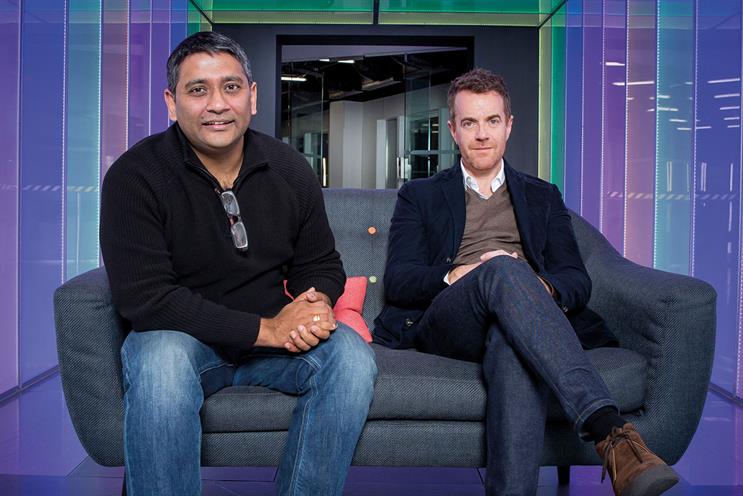 That's according to Joydeep Bhattacharya, UK and Ireland lead of the company's digital marketing division, Accenture Interactive, which will house Karmarama.
The deal took the industry by surprise last week, and Bhattacharya is "sure" other consulting companies will now consider buying marketing services agencies, raising questions about whether the big six advertising holding groups will remain dominant.
Six Karmarama executives, including chief executive Ben Bilboul, executive chairman Jon Wilkins, chief strategy officer Sid McGrath and chief creative officer Nik Studzinski, have been appointed managing directors, the equivalent of partners, at Accenture. They have been "heavily incentivised" to stay for the long term, Bilboul said, but declined to identify the other two Karmarama executives.
Bilboul plans to announce a number of significant hires imminently, following Accenture's investment, and brushed aside criticism of the quality of Karmarama's past creative output, saying that Studzinski had joined last year and "we're just getting started creatively".
Bhattacharya, an Indian-born ex-SapientNitro executive who joined Accenture in 2012, said Karmarama strengthens Accenture Interactive's creative expertise at a time when clients are looking to deliver "connected experiences" for consumers.
He described a virtuous circle of activity on behalf of a client: "Insights lead to a compelling story. That leads to an elegantly designed product that gets built and released into the market. That is then activated, amplified and optimised." Further insights should follow, leading to more products.
"Karmarama helps us be more credible and adds authenticity to make this whole offer real," Bhattacharya said, explaining how the creative agency could help at every stage from insight to brand and communications to engagement and activation. "That's a natural fit for Karma," he declared.
Accenture Interactive has many "anchor clients" such as Argos, BMW and H&M, "where we already have deep relationships across the C-suite", Bhattacharya said. "We want to introduce Karmarama into these accounts as they start to think about new product propositions."
Bilboul hailed the sale as "a ground-breaking moment". He said Karmarama, which was founded in 2000 and had a private equity co-owner, did not want to join a big advertising holding company. Being part of a consulting group opens up more opportunities for what he called "connected creativity" and moves Karmarama from "downstream" (charging for hours and materials) to selling business ideas about growth and transformation to the boardroom. "It's a re-evaluation of creativity," Bilboul claimed.
Karmarama used boutique investment bank GP Bullhound to advise on selling. However, Bilboul insisted the shop was not running a sale "process" when contact began with Accenture in March. Bhattacharya said Accenture Interactive prefers to identify a target and get to know the management "before it gets to an auction stage".
Ahead of the sale, a lot of the Karmarama team met their future colleagues at Accenture Interactive and talked to design agency Fjord, which was bought in 2013, to find out how it has fared. Fjord has quadrupled in size to 800 staff in three years. Accenture Interactive has also bought agencies in Sweden, the US, Brazil and Japan. Bhattacharya described stitching the acquisitions together into a "coalition of the willing" that will make Accenture Interactive "a new breed of agency" and "a formidable challenger".
Karmarama does not have an international network, unlike Fjord when it was sold, and will not expand immediately. "First, we want to make sure the [Karmarama] story really works in the UK and then that allows us to talk credibly about what expansion looks like," Bhattacharya said.
Cultural fit
Bilboul dismissed the suggestion that some of the 250 staff and 50 freelancers at Karmarama might be turned off by a consulting giant that employs 384,000 people. Becoming part of a global group is exciting, particularly for millennials, he said. The agency's clients have reacted enthusiastically to the sale because they recognise "the best ideas have to cross not just media but all consumer touchpoints", Bilboul added.
Bhattacharya said it was important to distinguish between Accenture and its subsidiary Accenture Interactive. The latter employs "thousands" but about 80% are new hires. Many are digital natives and ex-agency people – unlike at some other consulting groups, which might have reassigned staff in a "rebadging" exercise, Bhattacharya said.
Karmarama clients, which include Costa, Confused.com and Just Eat, will move to the same "Master Service Agreement" contract as other Accenture clients. That should make it easy for procurement when a client wants multiple services, Bhattacharya said. Accenture has no plans to do media buying and will use a third party if a client requests it.
Karmarama had £39m in revenues in the year to April and Bilboul said operating margin was in the region of "15-20%" in the private equity set-up. That would make it roughly in line with Accenture's margin of 14% on global sales of $32bn.
Bhattacharya said driving revenue from Karmarama was not the top priority. "What I realised from the Fjord experience is that if you have the right proposition and the client sees it, the price isn't an issue," he explained.
"We're not a 'run business'," he continued, referring to driving revenue. "We're a 'creator business'. We want to be in a place, going to our clients with new ideas and new revenue streams."
The first steps
Some Accenture Interactive clients, including a large bank, have already begun working with Karmarama following last week's surprise acquisition of the London creative agency for an estimated £50m.
Karmarama has extended the lease on its Farringdon office to five years as part of Accenture Interactive's commitment to a "culture of cultures" that respects each of the half-a-dozen agencies it has bought.
Nik Studzinski will become lead creative officer of Accenture Interactive in Europe. He will set up a global creative council, composed of creatives within Accenture Interactive, to advise how to make the best use of creativity to "improve the customer experience".
---