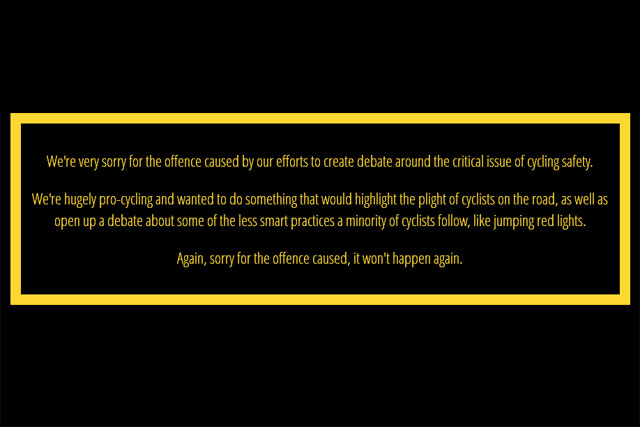 The campaign in question featured a series of roadside notices written in a limerick style about deaths on the road, with the slogan 'Ride Smart – Don't Die Stupid.' They bore the website address www.ride-smart.org as well as the Karmarama name.
Example limericks include:
There once was a cyclist named Keith,
he rode a fixie, lived out East,
a car smashed his head,
when he went through a red,
now he's down in the ground deceased.
The website stated: "Every year in this country there are around 19,000 reported cycling accidents on our roads, and on average 3,000 cyclists who are killed or seriously injured. Cyclists riding like stupid twats cause a percentage of these accidents so lots of accidents, injuries and deaths could therefore be avoided."
The approach has met with a social media backlash from the cycling community. There have been complaints directed at the agency through Twitter and a number of blogs criticising it have sprung up.
Karmarama has issued an apology saying it was "enormously distressed" by the situation "which misguidedly aimed to spark debate among the cycling community about the need for more responsible cycling and safer roads for cyclists".
It claimed that an individual employed by Karmarama did the campaign of their own accord, and was not sanctioned by the agency or any of its clients.
The agency said it became aware of the campaign yesterday and has instructed for all of the ads to be taken down. It has issued an apology on the Ride-Smart website.
A spokesman declined to comment on whether the individual is to be dismissed by the company.
It said: "This well-intended but misjudged campaign was the initiative of a member of staff who has witnessed two horrendous cyclists deaths on the streets of London.
"As a passionate cyclist, these tragedies have affected the individual deeply and we can only presume encouraged this personal action. The individual's campaign was a personal one, not sanctioned by the company nor any of our clients."
"This individual accepts unequivocally the error of doing this and apologies profusely to all fellow cyclists and to colleagues.
"Karmarama supports cycling and we have a successful cycle-to-work scheme and many colleagues commute to work on bicycles.
"We are enormously distressed by the situation which misguidedly aimed to spark debate amongst the cycling community about the need for more responsible cycling and safer roads for cyclists."