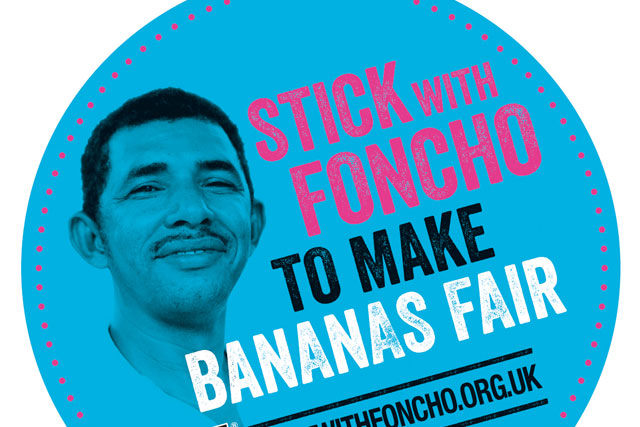 The annual Fairtrade Fortnight promotes fair trade production, and this year the event is focusing on how bananas are sold at unsustainably low prices in the UK, according to the campaign.
The campaign has chosen Albeiro Alfonso 'Foncho' Cantillo, a 43-year-old banana farmer from Colombia, as the face of the campaign to highlight this problem .
Foncho is coming to the UK from Colombia for the campaign from 24 February to 9 March.
Karmarama, sister PR agency Kaper and production agency Kream have put the campaign together, including a website with downloadable resources such as posters and action guides, all featuring Foncho's face.
It includes a video explaining that the UK consumes more than five billion bananas a year, and introducing Foncho in his home country of Colombia. The film asks viewers to "stick with the people that grow bananas" by buying fairly traded produce.
The campaign will include an online petition calling on Vince Cable, the secretary of state for business, to investigate the impact of supermarket pricing in the UK on farmers who grow bananas overseas.
Foncho grows bananas on a 1.3-hectare plot of land he inherited from his father.
The website explains: "Foncho is fuming that the majority of bananas munched in the UK are sold so cheaply that his fellow producers often do not earn enough from what they sell to the UK.
"Starting this Fairtrade Fortnight, he hopes we can make all bananas fair, so that every farmer and worker like him who grows them gets a fair deal."
The campaign will also include a "hard-hitting" press stunt on Monday 24 February in London, to launch the campaign, together with celebrity backing, which will be revealed at the launch.
Around 5,000 banana-focused event packs have been downloaded from the campaign's hub so far.
Kaper and Kream have worked with Fairtrade Fortnight since early 2012, but this is the first campaign the entire Karma Communications Group has worked on.
Fairtrade Fortnight in now in its 19th year. It launched in 1995 when Justino Peck, a cocoa farmer from Belize, came to the UK for the first campaign.