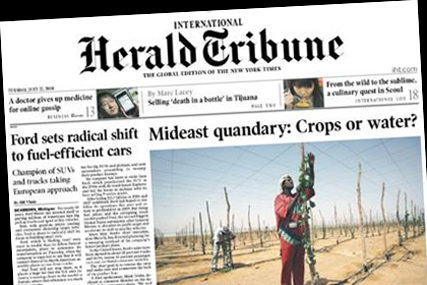 The agency, which picked up the business without a pitch, will take on a number of advertising projects for the New York Times-owned brand.
Karmarama's first task will be to promote the IHT's "Female Factor" - a year-long series in the paper examining the influence of women on 21st-century society.
The agency will produce an integrated campaign to promote the series the main focus of which will be an online film aimed at influential women in business and government. A press campaign will support the online work.
The first activity will launch next month to coincide with the 100th anniversary of International Women's Day.
John Scully, the IHT's head of marketing, said: "Karmarama's enthusiasm and commitment will allow us to bring the IHT's unique international perspective on an important issue to a wider audience."
The agency has also been briefed on a number of other undisclosed projects.
The appointment comes as the paper looks to increase its market share. It has a 1.7% share of readership among European business titles, according to the latest BE: Europe survey. Traffic to IHT.com, meanwhile, rose by 20% last year.
The IHT, which combines content from its own correspondents with that of The New York Times, is based in Paris and is sold in more than 180 countries globally.