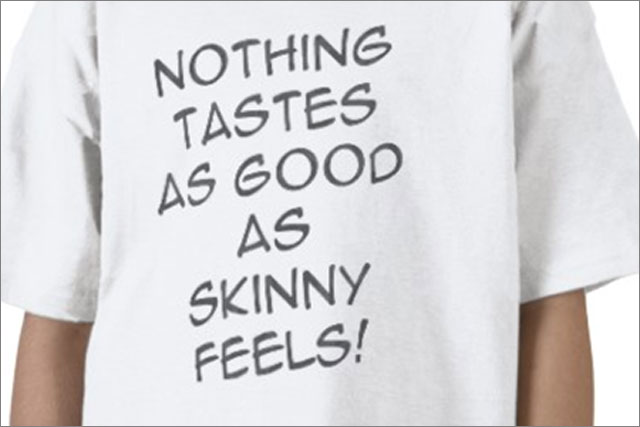 The Advertising Standards Authority (ASA) received three complaints calling the ad "irresponsible" and claiming that the slogan could cause harm to children, by implying that being underweight is desirable, which could encourage children to develop an unhealthy body image or relationship with food.
Zazzle told the ASA that it was a technology company that had developed a platform that allowed members of its marketplace to create and sell their own designs on their own products.
Zazzle admitted it did not pre-screen the content before it was uploaded to the site, claiming that it provided tools for users to report products that are found offensive.
After being contacted by the ASA, Zazzle restricted the specific design so it would not appear on children's clothing.
"The ad has been banned from any future use however, due to the possibility that the t-shirt could condone an unsafe practice that may result in "physical, mental or moral harm to children".
The ruling comes as an industry panel set up by the Advertising Association in June looks at beefing up controls on marketing to children, in an attempt to head off the threat of legislation.
The panel was set up in the wake of the publication of the Bailey Review on the commercialisation and sexualisation of childhood, which recommended a series of curbs on the marketing and media sectors.