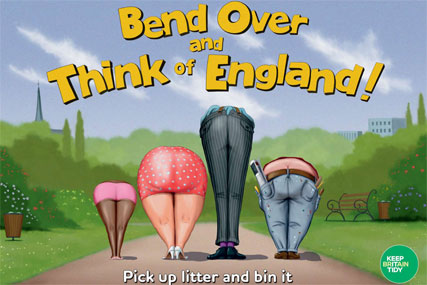 The campaign, developed by Inferno, whose clients include Nokia, Honda and Budweiser, encourages people to pick up and bin their own litter.
Keep Britain Tidy is the environmental charity and anti-litter campaign for England.
Ginette Unsworth of Keep Britain Tidy said: "Britain currently spends £858m on cleaning its streets. If everyone stopped dropping litter, be it a cigarette butt or unwanted receipt, and picked up one piece of litter a day, Britain would be a more beautiful place.
"Despite the frustrations over budget cuts, we're thrilled with Inferno's campaign and look forward to seeing it roll out across the country. We appreciate everyone's support."
The campaign has been met with enthusiasm, and local authorities are finding funds to boost the drive.
The campaign is designed in the style of a 1970s seaside postcard and will be featured outdoor, on bus sides and local community posters.
A second execution of the campaign titled 'Get behind us' localises the effort and will appeal to a community audience, for example 'Get behind Essex'.
Andy Cairns, MD of Inferno, said: "Keep Britain Tidy is a cause close to all our hearts.
"When we pitched and won back in October, we were hugely energised by the creative opportunity to effect social change at such a national level.
"The campaign encapsulates a serious message with a sense of fun."