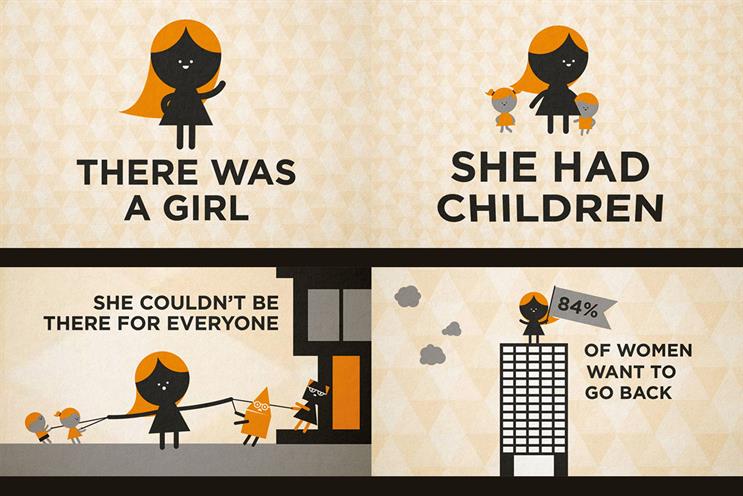 Last week, I attended the launch of She's Back, an initiative that aims to shed light on why so many women in high-powered jobs leave to start a family but don't return.
I feel passionately about the talent drain of brilliant women from our industry and others because they cannot, for a host of reasons, make motherhood and a "big" career work.
As a mum (with two young sons and a stepson) and the head of account management at DLKW Lowe (a partner of She's Back), this felt like an issue to get on my soapbox for. Until I found out that the copy deadline was Friday morning. And I don't work Fridays. Welcome to the challenges working mums routinely face.
In our digital age, agile working is entirely possible and I hope that, by showing that it is how well you do your job and not necessarily where and when you do it, I am a positive example to other women at DLKW Lowe. But the demands in an industry that is "always on" when you can't be are considerable.
For me, it's incredibly important to be a realistic and relatable role model. While I trust that I do not wear my "working mother" badge too obviously, I do not hide the fact that I have kids and want to get home in time to read The Twits before bed.
Both Sarah Wood, the chief operating officer of Unruly Media, and Cilla Snowball, the group chairman of Abbott Mead Vickers BBDO, talked at the She's Back launch about the importance of attainable role models and of seeing women who are happy examples of making career and family work, as opposed to being frazzled or turning into a machine.
This brings me to one of the most eye-opening stats in the research. Not only did 70 per cent of the women leave their jobs because they felt it impossible to combine a career and family life, but a substantial number left even before they had children because they looked up and could not see realistic role models.
Lisa Unwin, a founder of She's Back, says it's time for companies to wake up. Disruptive business models are emerging in all sectors using digital technology and agile working to tap into this talent pool.
I have not stepped away from my career at any point so far – aside from two periods of maternity leave – but much of what Unwin says about "disruptive models" is true in my experience. Both the agencies I have worked for post-children have been open-minded, making me motivated, productive and grateful as a result. Am I one of the lucky ones, though? Perhaps.
I had children while working for Glue (now Isobar UK) at a time when all the senior management were having families and, as such, it wasn't made to feel like a career-limiting move.
Matthew d'Ancona, who writes a weekly column for The Guardian, said that having children can still be seen wrongly as a "female lifestyle choice" like buying a pair of shoes when, let's face it, "men play a pretty important role in conception". It's a joint choice, so why are we still taking the hit on our careers?
While attitudes are changing, and co-parenting and joint maternity/paternity leave are increasing, the barrier for women is not just "inflexibility". It is, crucially, one of confidence in the workplace.
Snowball described having children and needing to care for elderly or ill parents as "points of vulnerability" where women are susceptible to being pulled out of their careers. So we need both an attitudinal and systematic shift to help deal with this.
The barrier for women is not just 'in flexibility'. It is, crucially, one of confidence in the workplace
Indeed, when I joined DLKW Lowe in 2012, my part-time week and altered hours were something the agency embraced because of its strong desire for a talented and diverse workforce. They could have hired someone without children, full-time. But they hired me.
She's Back research showed that 84 per cent of women wanted to return to fulfilling, challenging work with a clear career track. I think it's often a wrong assumption that women returning from maternity or from a longer career break need to be given work that is deemed to be more compatible with having a family. This can invariably mean a sidestep or a role that doesn't get the best out of them – and She's Back found that 50 per cent of women returning from maternity left within three to five years.
DLKW Lowe has started a quiet revolution in pursuit of a progressive approach towards working practices. Here, the culture and attitude to working mothers mean that agreeing to individual arrangements don't involve hardball negotiation. It's a sensible process of give and take.
If more organisations can adopt this attitude, helping women and wanting us to succeed at our "vulnerable points", then we might really start to tackle the problem.
Unwin said there is a real focus on "fixing the women" through networking and coaching, but it's the organisations that need some fixing too.
Charlie Hurrell is the head of account management at DLKW Lowe