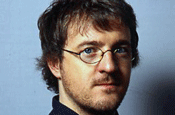 Cornwall police were called to an unclassified road between Launceston and Bodmin at around 6.15 on Tuesday evening.
His wife Anna Courtney-Forsyth, aged 31, who met Courtney when she worked as a senior account manager at Publicis, died in hospital.
Adam Kean, creative director at Publicis, who worked with Courtney, said: "Keith was an incredibly loquacious character - he had a tremendous amount of energy.
"He was hugely loved here and he knew everybody."
Courtney studied at art school in Belfast, where his finals work was bought by the Ulster Museum
His first job was at Gold Greenlees Trott, followed by three years at WCRS, where he worked on Carling Black Label.
He later worked at Simons Palmer Denton Clemmow and Johnson where his work on Nike included the 'it's not the winning it's the taking apart' campaign.
He then moved to Lowe Howard Spink as a board director, but after a year he left to freelance,before joining K Advertising.
In 1996 he became the firm's creative director, and was at the time, the youngest creative director in London.
That year he was named the overall winner at Campaign's 1996 Press Awards, for his "quality control stickers" work for Pentax.
He left to join Leagas Shafron just before Saatchi & Saatchi's decision to close K, following its takeover
He Joined Publicis in 1998, where he worked until 2006.
Since he left Publicis, he has lived in Cornwall, working on the restoration of an old church.
Devon & Cornwall police are investigating the possibility that his Piaggio moped was in collision with a deer, after a carcass was found near the scene of the accident.
The funeral and memorial service will be held the week after next in Cornwall. For more details, please contact David Balko at Draft FCB on 020 3048 0000 or e-mail: david.balko@draftfcb.com
Campaign Interview with Keith Courtney from 1998