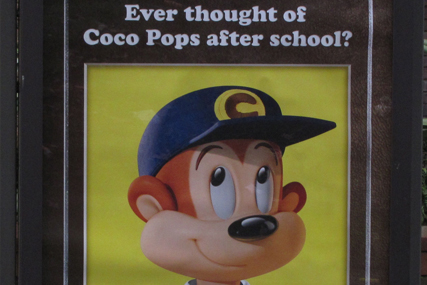 The Advertising Standards Association ruled against banning the ad, after deciding that it did not encourage schoolchildren to eat excessive amounts of Coco Pops.
The poster ad, created by Leo Burnett, features a picture of the cartoon character Coco the monkey dressed in school uniform. The ad states: "Ever thought of Coco Pops after school?"
European Union law prevents any blanket ban on advertising to children, but the advertising watchdog judges cases on an individual basis.
The ASA referenced two specific Committee of Advertising Practice (Cap) rulings:
Marketing communications should not condone or encourage poor nutritional habits or an unhealthy lifestyle in children.
Marketing communications addressed to or targeted at children should not actively encourage them to eat or drink at or near bedtime, to eat frequently throughout the day, or to replace main meals with confectionary or snack foods.
Some complainants, including the campaigning group, Sustain, challenged whether the ad was irresponsible because they believed it encouraged children to eat two bowls of breakfast cereal a day.
Kellogg's defence cited the Food Standards Agency's (FSA) recommendation that the inclusion of milk and fortified cereal could form part of a healthy balanced diet for a child.
Additionally, the cereal maker cited independent research, which claimed that 93% of mothers thought Coco Pops with milk would be a suitable substitute snack, and said if they were to give it to their children, they would do so as a replacement for crisps, biscuits or sweets.
Kellogg argued that the ad did not mention consuming Coco Pops twice a day, but only referred to it as a suitable snack for after-school consumption.
In its ruling, the ASA referenced Kellogg's independent research and accepted that it was likely that Coco Pops would replace an after-school snack, as opposed to serving it as an additional eating occasion.
Furthermore, after scrutinising the ad, the ASA concluded it was unlikely that readers would infer that it was appropriate to eat two bowls of Coco Pops a day.