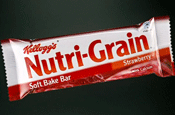 The ad for a Nutri-Grain cereal bar was set in a doctor's surgery, with a young man complaining of hunger pangs.
An older man, a baker posing as a doctor, handed the younger man a bar and asked him to take his trousers off.
The ASA said 42 complaints were received from viewers who thought the ad was suggestive of sexual abuse, and was not suitable to be broadcast to children.
However, the ASA said that the ad was unlikely to cause serious or widespread offence.
It said: "While we understood that some viewers might find the ad distasteful, we considered that most viewers would understand that the ad was light-hearted in tone and was attempting to be humorous."
However, Kellogg's said it would replace the offending line with another one.
A separate Kellogg's ad for Coco Pops was also cleared of encouraging unhealthy dietary practice.