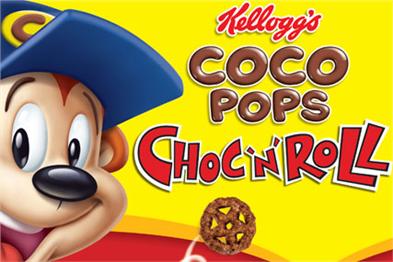 The ad, created by Leo Burnett, is part of a £3m campaign by Kellogg's to promote its new healthier cereal range that is made with wholegrain.

The TV campaign will run in bursts until the end of December, while an outdoor and radio ad will run later this year.

The ad features Coco Pops' well known 'monkey' mascot driving a racing car around the inside of an individual Choc 'N' Roll flake. Mechanics are seen changing the wheels made out of the cereal against the backdrop of Dead or Alive's song Spin Me Around.

Kellogg's has cut its sugar levels down and boosted the fibre content of its new Choc 'N' Roll cereal, which would allow it to be advertised to around kids' TV.
However, using the strapline, 'it's choc fibre fun' the company has opted to get mothers instead with a message that it will appeal to children, but is also high in fibre and contains vitamin D, which many people's diets lack.

Sugar levels in existing Kellogg's Coco Pops cereals, such as Coco Pops original and Coco Pops Rocks, will be cut by 15% by the middle of next year and replaced with starch from grains and glucose syrup.
However, even after the cuts, they will still be barred from advertising around children's television programmes because they still fall within the HFSS (high in fat, salt and sugar) nutritional profile as set out by the Food Standards Agency.