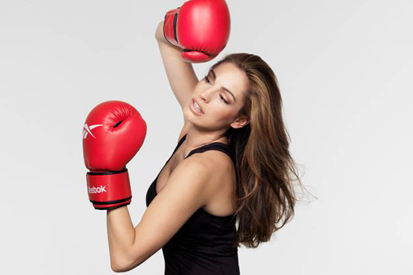 It's difficult to walk down the high street without seeing a picture of Kelly Brook. Shooting a Reebok ad, a photocall with Sky for the annual Skyride and appearing in a Funny or Die video, all before heading off on another press junket for film Piranha 3D - just another week of juggling brands for the quintessentially British model, actress and presenter.
Brook is a tabloid favourite and any brand that associates itself with her is almost guaranteed acres of coverage. Her recent campaign for Reebok's Easy Tone trainers - in which she appeared wearing nothing but the sports shoes - perhaps inevitably worked the Daily Mail into a lather. The newspaper compared the billboard to the infamous 'Hello Boys!' Wonderbra campaign and voiced similar concerns over whether it would distract drivers from the road.
Her management team at ROAR Global, the company overseen by chairman Jonathan Shalit, has steadily increased Brook's brand portfolio over the past nine months. He attributes Brook's success to her authenticity. 'She is a very decent person with real moral values and that is appealing,' he says.
Certainly in the light of the lengthy list of celebrity partnerships gone sour, it is easy to see why such a seemingly reliable star is so attractive to brands.
Brook has followed the Elle Macpherson brand-building model, with swimwear and lingerie lines to her name and a skincare range in the pipeline. 'Swimwear was the first step and lingerie was a natural progression,' she says. 'I don't want to talk about myself in the third person, but I have a natural fit with health and fitness.'
Brands' partner
The 30-year-old, who grew up in Kent, moved to London to study at the Italia Conti stage school. Her modelling career began when, aged just 16, she won a beauty contest. After making her name in TV in the late 90s, she went on to feature in campaigns for Pepsi, Lynx, T-Mobile and Triumph.
While it hasn't all been plain sailing, Brook's career has outlasted The Big Breakfast - the TV show that first catapulted her to the top of the tabloid agenda. Her relationships with brands are also notable for their longevity.
Crucially, Brook - who carefully cultivates an accessible persona - appears at photocalls and events for the brands she works with, as opposed to simply fronting an ad. 'I see my work with brands as an ongoing relationship,' she explains. 'With brands like Pepsi and Sky, these are companies I have worked with over a long time.'
Brook seems down-to-earth, and does not share the complaints about invasions of privacy commonly voiced by celebrities. Nor does she have the hard edge of glamour model mini-moguls such as Katie Price.
'I've been in the business for 14 years and take what I do as a real privilege,' says Brook. 'I have respect for people - I see it as a relationship.'
Brook has spoken articulately about the importance of presenting a realistic body image to young girls, and seeks to be a positive role model. 'There is not much I do that is going to create bad press - I am very aware that this is my livelihood. You won't see me eating kebabs or falling out of nightclubs,' she says.
With a strong business sense - she was one of the first models to own copyright and syndication rights to her images - it seems inevitable that the Kelly Brook brand will continue to grow. 'Many people have the ambition to be a brand, but you can only become one because the public really loves you,' argues Shalit.
As well as further commercial, modelling and film work, Brook is also focused on developing products under her own name. 'Kelly Brook is a stage name, so in a sense I have branded myself,' she says. 'I want to create something with integrity - that's really my goal,' she says. Love or loathe her, it is easy to believe she will succeed.