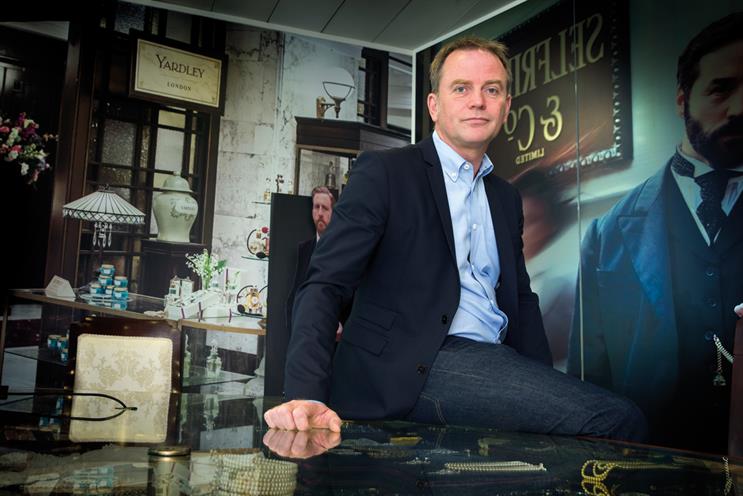 As Kelly Williams left the stage after addressing ITV's Manchester-based staff at Old Trafford in November last year, the broadcaster's chief executive, Adam Crozier, asked for a quick word. It was good news – not something Williams, a Liverpool fan, was used to emerging from Manchester United's ground.
"Being offered that job at Old Trafford… I keep looking back and thinking that's not the place you'd want to be offered a job," Williams jokes. "But I've sold airtime for 27 years, so this is my dream job."
The reason there was a vacancy in the first place made the situation "bittersweet". Williams had been drafted into the Manchester event because his boss, Fru Hazlitt, was not well. She was, in fact, leaving the company abruptly to recuperate. Hazlitt had recruited Williams, a former sales director at Channel 5, alongside Simon Daglish as part of a shake-up of the ITV sales team in January 2011.
Since Williams' elevation to managing director of commercial – with Daglish as his deputy – his strategy has been to evolve what the team was already doing. Williams says his senior leadership are "as strong a team as I've ever worked with". As such, he is not planning any major personnel changes. Instead, Williams says it is more about making shifts and tweaks where they "can improve the team or drive revenue".
One of ITV's new sources of cash has been branded content. Williams cites a campaign ITV created that helped Cadbury gain share last Christmas as an example of how it can add value. More recently, the broadcaster turned around an ad for Boots No7 in less than 24 hours.
"We're not trying to disintermediate the ad agency," Williams explains. "We're there to try to add something to the process. Because of who we are and economies of scale, we can make stuff pretty cost-effectively."
ITV is also trying to make more of its top shows through programme apps. Williams says the "incredible" return on investment Domino's Pizza achieved from its sponsorship of last year's X Factor app has helped talks with brands about other shows.
"We're probably in a unique position as we're the only broadcaster that can deliver apps at scale," he adds.
Despite these new revenue streams, some media agency executives believe ITV has work to do to catch up with its rivals in terms of innovation.
In that regard, offering ads on companion apps is hardly in the same league as Channel 4 trading its video-on-demand inventory through a programmatic platform, or Sky's targeted advertising on linear TV. Advertisers will be looking for something fresh at this year's upfronts.
"Most advertisers need ITV to deliver mass on the main channel and niche on the digital channels," Chris Locke, the managing director of VivaKi, says. "If they carry on cracking that as the only commercial game in town, it will keep them strong. But, for fuck's sake, get to the programmatic digital solution. Without it, everything else can be great, but they will become ever-more the Sony Walkman of media."
We're not trying to disintermediate the ad agency… Because of who we are, we can make stuff cost-effectively
Williams concedes ITV's "bread and butter continues to be selling airtime and creating partnerships". And, although it is not a new game, it is one that remains lucrative.
Group M has forecast that TV ad revenue could climb by 9 per cent this year and the growth is coming from all different sectors, from retail to FMCG to entertainment.
"Lots of advertisers are coming back to TV across every category because it works," Williams says.
In terms of upcoming content, Williams says he is "most excited about" ITV drama. He describes The Frankenstein Chronicles starring Sean Bean, a 13-part adaptation of the Old English poem Beowulf and a retelling of Jekyll & Hyde as "epic" productions.
"Around the world, the bar has been raised for drama and we're raising that bar with those dramas," he says.
One example of ITV's core ad proposition is the Rugby World Cup. In addition to the headline sponsorship, which was sold to Land Rover and SSE at above the asking price, agencies believe the tournament could help ITV's ad revenue climb by as much as 9 per cent in the third quarter.
Williams believes the tournament will "grab the public's attention in a much bigger way" than anyone expects.
Since starting his career in sales at Thames TV in 1988, he has earned an army of loyal colleagues.
They speak of Williams' generosity and mentorship, which extends to organising skiing trips and nights out.
"I've not really come across anyone who doesn't like him," Jonathan Lewis, the head of digital and partnership in­novation at Channel 4, who worked for Williams at Channel 5, says. "He has a natural affinity with people."
But, as Brendan Rodgers at Liverpool has discovered, personality only gets you so far. It's all about results.