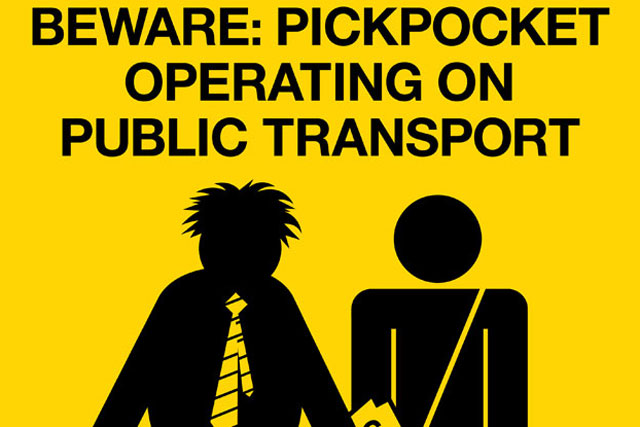 The ad was inspired by Transport for London's (TfL) own warning posters, and responds to the latest rise in TfL fares introduced on 3 January, which Livingstone claims have increased above the level of inflation.
It features a figures standing against a bright yellow background being pickpocketed by a portly figure with spiky and unkempt hair, designed to resemble Boris Johnson. The ad reads, "Beware: pickpocket operating on public transport".
It is running in the London Evening Standard newspaper throughout this month and will be followed by further efforts in the run-up to the mayoral election on 3 May.
Neil Dawson was the creative director and art director, working with copywriter Clive Pickering and designer Louise Sloper.
Livingstone's campaign claims "the cost of a single bus ticket has gone up 50%, a weekly bus and tram pass is up 45%, costing Londoners £301 a year more and a zone 1-5 Travelcard is up 20%, costing Londoners £457 a year more", since Johnson was elected mayor.
A spokesperson for Ken Livingstone said: "Through innovative campaigning we have put the issue of fares at the heart of the mayoral election. We've used texting, emails, Facebook and now online and print advertising to reach well over a million Londoners with our Fare Deal campaign.
"Londoner's pockets are being picked the Tory mayor's latest bus, Tube and train fare increases. Last week, millions of Londoners were hit by Boris Johnson's fourth fare increase in four years."
The Labour attack on Johnson comes as TfL has banned Wonga.com and other payday loan companies from signing major corporate sponsorships the transport company, following the highly criticised deal with Wonga for New Year's Eve 2010.
Follow Loulla-Mae Eleftheriou-Smith on Twitter @LoullaMae_ES