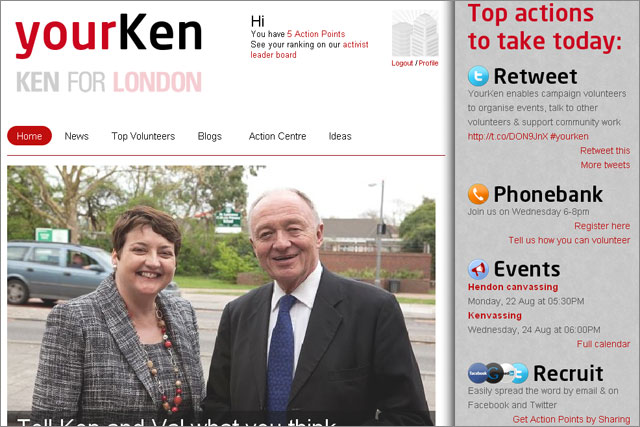 The campaign is run in-house, but last month Livingstone started the hunt for an agency to take his Labour entry through to the elections, slated for 3 May next year.
The site has been developed through technology supplied by US based company NationBuilder, a non-partisan platform for organisations to create campaigning-based sites.
The site, www.yourken.org, allows people to sign up and volunteer for the Mayoral campaign, creating individual events in communities, use Facebook and Twitter to share details of campaign events across London and to blog about volunteer activities. People will also be able to communicate directly with Livingstone.
In addition, a text channel launches today that allows people signed up to the site to receive exclusive campaign announcements.
A "Top Volunteers" section of the site keeps track of the most active volunteers on YourKen, earning "volunteer points" by taking part in voter contact sessions, delivering leaflets, attending a phone bank, tweeting and through activity on Facebook.
The five most active volunteers each month are rewarded by Livingstone with a prize and exclusive invitations to events.
Livingstone said: "Thousands of people from across London are driving a uniquely volunteer-led campaign. The enthusiasm and momentum on our phonebanks and campaign days this year has been striking, whereas the Tory campaign has been running to catch up.
"YourKen.org will give thousands of volunteers the chance to actively participate in the most cutting edge and dynamic campaign London has ever seen.
"These tools will help me put Londoners first, at a time when Londoners are under enormous pressure from the policies of the Conservative party."
Boris Johnson, the current Mayor of London, is running to keep his position in the London mayoral elections next year, and has his own campaign website, www.backboris2012.com