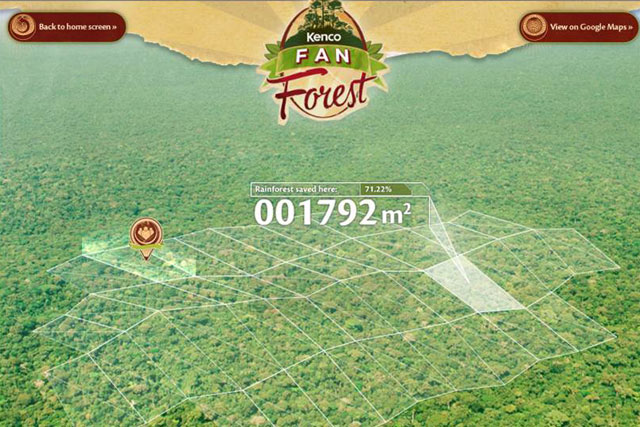 The 'Sustainability' campaign, which launches on Facebook on Thursday, allows people to save a square metre of the rainforest by "liking" the Kenco Fan Forest page.

For every 20,000 to 100,000 "likes" the Fan page receives, Kenco will donate £500 to buy an "acre of land" through the World Land Trust, to protect the Rainforest Alliance-certified farms, where it buys its coffee beans.
Facebook users are encouraged to send the page to friends and return to the site to see how their "plot" of land has grown and to view it using Google maps.
The campaign has been created by Proximity London. Anja Muller was the copywriter on the ad, working alongside art director, Nick Shay. Nick Moffat was the creative director and Caitlin Ryan was the executive creative director.
Ryan said: "Digital needs to be about so much more than a one-off experience. We're building a community, and this is the starting point in a relationship that gives Kenco drinkers reasons to go back and engage."
Emad Nadim, assistant brand manager, added: "Sustainability is our great passion. We buy all our beans from Rainforest Alliance-certified farms, and our Eco Refill packs reduce our packaging by 97%. The Fan Forest doesn't just demonstrate this, it gives our customers a chance to get more involved too."
Follow @SaraKimberley