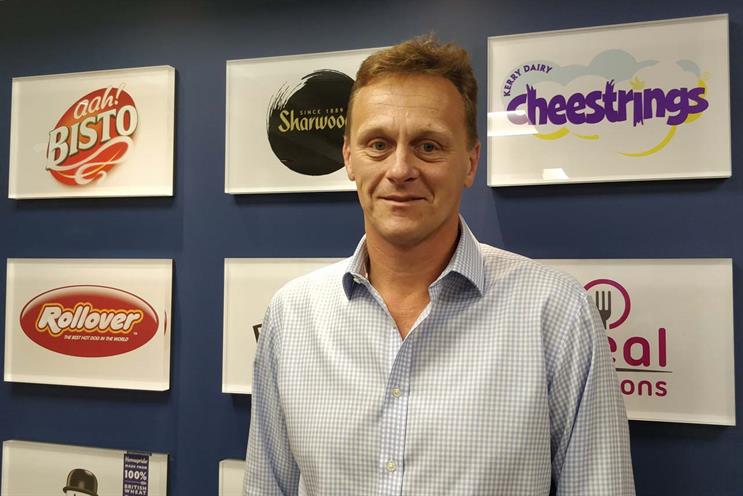 Robinson moved last July after three years as UK marketing director at the brewing giant, where he oversaw marketing for brands including Budweiser, Stella Artois and Corona.
While Kerry – which also owns Cheesestrings, as well as a huge supermarket private label business – isn't quite on the same scale, he was attracted by what he called the "entrepreneurial" character of the business.
"At this point I thought I was ready to run a full marketing organisation as a CMO, sit on the board and have full responsibility in that respect," he said.
"Kerry began in the 70s as a small dairy co-op in the south west of Ireland and has grown to be a £6bn company. They've got a very entrepreneurial spirit, which I think comes from the background. They're very open to new ways of doing things."
Around the time Robinson started, the company was running a programme to invite ideas on how to grow the business from the 6,500 members of staff – which brought in more than 3,000 ideas.
This level of innovative thinking can be a double edged sword though, Robinson said. "Part of my role is to encourage that and get it to prosper, while providing focus around fewer areas and driving enough weight of investment and focus around where we see the biggest opportunities. It's about striking that balance, while not changing the culture too much."
How the sausage is made
Fridge Raiders, the chicken snack under the Mattessons parent brand, has generated some impressive marketing in recent years from Kerry's UK agency, Saatchi & Saatchi – particularly by targeting the specific but significant niche of teen gamers.
"Snacker hacker", launched in 2016, taught teens to code in a training course disguised as an online game, and won a Bronze Lion in the Cyber category at Cannes last year.
Last December, the brand partnered with the Call of Duty franchise to release "Code strike", a World War II-themed codebreaking mobile game. These recent campaigns have been part of a strategy to become "to gaming what popcorn is to cinema", Robinson said.

But according to Robinson, the next stage for the brand is speaking to consumers beyond the teen heartland. The next campaign, he said, would move beyond gaming to a new conversational arena.
"If you look at snacking in totality, 15% of it comes from teenagers and kids, and 85% from adults," he said. "So there is a bigger opportunity using the power of the Fridge Raiders brand to expand and grow in that respect."
And while it might not be everyone's idea of haute cuisine, Robinson points out that it is both in the chilled section and high in protein: two attributes that are on trend and growing fast.
Richmond, meanwhile, relaunched last year with a campaign highlighting its status as "the nation's favourite" sausage (it's the UK's best-selling sausage brand).
This week, the brand launches an experiential component of the campaign that aims to recognise the nation's favourite workforces – based on research conducted for the brand by Opinium.
The research found nurses to be the nation's favourite workforce, with 31% of the 2,004 poll respondents naming them as their favourites, while 52% said they were Britain's most selfless employees, and 68% among the most underappreciated.
Nurses were followed in the poll by the armed forces, doctors, paramedics, farmers, teachers, police officers, firefighters, carers and lifeboat crew.
To toast the contribution nurses make to the country, Richmond hired Gogglebox star Scarlett Moffatt to host a surprise night of fun for nurses at East Coast Community Healthcare in Norwich, featuring a dinner, marching band and Take That tribute act.
This is set to be followed by a tour of the country, involving a squad of other celebrities, to celebrate the other most beloved employees. The brand is calling on people to nominate their own local "hard-working heroes" to receive a surprise.
The TV campaign, Robinson said, "got us back in front of a broad audience we hadn't been in front of for a while", and placed in the top 25% of ads tested by Millward Brown.
"We've landed on a message that works," he said. "In 2018 it's going to be about bringing that to life for consumers in terms of experiential, and rewarding the nation's favourite people for the work that they do."