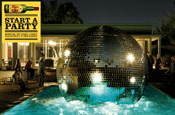 The new agency, which will take the name KK Outlet, is due to launch this summer and will open its doors in East London, although an exact location is yet to be decided.
Yen Yen Ho, the former head of account management at BBH Singapore, will head up the offshoot alongside Erik Kessels, the co-founder and creative director at Kesselskramer.
The London base will not be a carbon copy of the Amsterdam agency, but will take the form of a shop, gallery and workspace in one.
Kessels, who plans to split his time between the London and Amsterdam offices, set up the original agency with co-founder Johan Kramer in 1996. Kramer, however, left in 2004 to concentrate on directing full time.
Yen Yen has previously worked for the agency in Amsterdam, before leaving to help set up BBH's Shanghai office.
Since it launched 11 years ago, Kesselskramer has built up a reputation for quirky guerrilla advertising. The agency has produced ads for brands including Diesel, Levi's, Nike and Oxfam.
Erik Kessels, the co-founder and creative director, said: "Our ambitions are not to build a huge agency, we want to concentrate more on quality than quantity. The field of communications is so much broader than advertising on its own, and over the years we've spread into different fields and we want to bring that expertise to London."