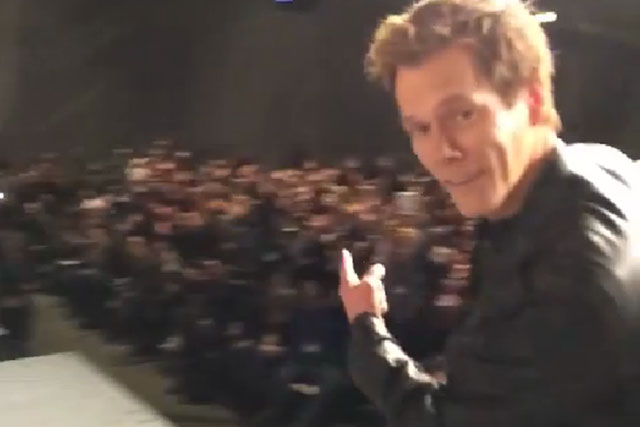 Google Glass backlash
Ever since Google announced its controversial Glass glasses, which allow people to take pictures using a "discrete" headset, privacy concerns have been a concern.
But the tech world seems to be less impressed by the product and its wearers attending the conference.
3rd Glass wearer spotted #SXSW #glasshole candidate.

— Rob Brown (@robbrown) March 8, 2014
And it's not surprising given where some wearers were using them...
Seriously people, wearing Google Glass to the toilet is not cool #sxsw
— Danny Whatmough (@DannyWhatmough)
March 8, 2014
3D Printed Food
3D printing, a technology that has picked up momentum in the past 18 months, was also on display with 3D-printed confectionery.
In the tweet below, Richard Stokes, the global marketing and new business director at Maxus, is seen tasting a 3D-printed sugar cube.
@richardmaxus eating 3d printed sugar #SXSW14 @MaxusGlobal pic.twitter.com/Ci9t1FI3PU

— Jenny Smith (@jenny1997) March 7, 2014
Meanwhile, a machine captured in this Vine video prints Oreo cookies in 3D for attendees.
Julian Assange Skypes it in
Speaking from Ecuador's London Embassy, the founder of Wikileaks Julian Assange addressed an SXSW audience via video link.
#sxsw #Assange saying national security journalists are new political refugees.

— James Swift (@James_A_Swift) March 8, 2014
The talk was not well received by the former Burberry and Topshop marketing director and founder of Innovate7, Justin Cooke.
Massive disappointment in the air at the #julian #assange talk. No conversation just a rambling moment. Be nice to hear more depth #sxsw

— Justin Cooke (@JC7777) March 8, 2014
And the talk was reportedly not well received by the room, either, with technical difficulties seeming to be an issue.
This session is a reminder that there's still some ground to cover in live video conferencing technology & reliability #JulianAssange #sxsw

— katyzack (@katyzack) March 8, 2014
Eric Schmidt, Neil deGrasse Tyson and inspiration
Following on from the release of their book The New Digital Age in 2013, Eric Schmidt and Jared Cohen, Google's executive chairman and director of Ideas, respectively, took to the stage to talk about government, society and cyberwar.
The room where the talk was being held started to fill up nearly an hour before the "tech stars" were due to appear.
Schmidt, Cohen, Levy. The rockstars of tech. Techstars, if you will. #sxsw14 #havasxsw pic.twitter.com/C01E9cDVnb

— Arena Media UK (@ArenaMediaUK) March 7, 2014
Schmidt also commented on the recent WhatsApp purchase by Facebook:
THE @ericschmidt on Whatsapp sale: "Let's celebrate capitalism. $19bn and they're 50 people? Good for them!" #SXSW14

— Loulla-Mae ES (@LoullaMae_ES) March 7, 2014
And, in a separate discussion, the scientist Neil deGrasse Tyson, was a big draw with his talk about dinosaurs and space.
Dinosaurs didn't have opposable thumbs or a space program. If they did, they would've deflected that astroid. #deGrasse #SXSW

— Eric Pait (@ericpait) March 8, 2014
There is so much to be impressed with in the universe. Don't be distracted by things that are not impressive. #degrasse #sxsw #gsdm

— Sarah Settele (@ssettele) March 8, 2014
Please let the next Jurassic Park film be in space #DeGrasse #sxsw

— Marc Koz (@mjkoz) March 8, 2014
Lessons for adland
The discussion around marketing and advertising continued on Twitter, with realtime marketing, social engagement and data privacy key trends of the weekend.
"Real-time marketing is becoming the new 'viral'. Clients call and say, 'Make me a real-time makreting campaign!'" Yup. #SXSW14 #MPOMMA

— Liz Taylor (@lizsayz) March 7, 2014
Create a culture, make it part of the DNA, & ensure marketing is everyone's job is how @Dell thinks about #RTM says @bryanatdell #mpomma

— Marshall Wright (@marshallwright) March 7, 2014
#SXSW14 #LEGOatSXSW @MaxusGlobal crowd saucing - remember if you didn't hire them you can't fire them. It's not a quick fix solution

— Jenny Smith (@jenny1997) March 7, 2014
We need better knowledge around cyber security. Squirrels have taken down the power grid more times than hackers. #sxsw

— Engine (@EngineLondon) March 8, 2014
Kevin Bacon gives everyone a "Bacon number" of 1
If you search Google for "Bacon number" and then the name of a celebrity, you are given a calculation of how many degrees of separation there are between that celebrity and Kevin Bacon. The lucky audience at SXSW just decreased their separation by appearing with him in this Vine video posted by Lance Ulanoff, the editor-at-large of Mashable.
Grumpy cat
And it wouldn't be a tech festival without the appearance of at least one internet sensation. And, who better to make the point that cats are the key to "going viral"?
#HOLYSHRIMP. I HAVE A BOAT. #SXSWi #SXSW @Friskies @mashable @sxsw pic.twitter.com/yLgOM3MOfi

— Grumpy Cat (@RealGrumpyCat) March 7, 2014
This article was first published on Campaignlive.co.uk