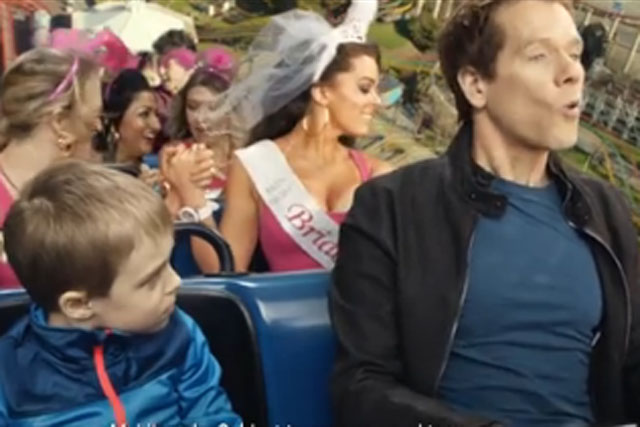 The new ad, which shows Bacon on the rollercoaster holding his phone, highlights the fact that EE is the official mobile network of the England team, ahead of the Fifa 2014 World Cup.
The film aims to show that EE's 4G "superfast" internet will allow people to stream football content during the World Cup in unusual places.
The ad launches today on TV and on YouTube.
Bacon speaks to a small boy next to him on the rollercoaster, which is the tallest in the UK. The boy originally thinks Bacon is talking about the rollercoaster, before the actor explains he is talking about the football match on his phone.
The boy asks: "What are you on?" and Bacon replies: "4G from EE… So I can watch England's games in more places than ever, like here."
The ad was created by EE's advertising agency, Saatchi & Saatchi London. Allan Stephenson and Lovisa Silburn jointly wrote and art directed the ad. Traktor directed the spot through Partizan.
MEC handled media planning and buying.
Spencer McHugh, the director of brand at EE, said: "EE's 4G network now covers a massive 70 per cent of the UK population, so our customers can enjoy a far superior internet experience on the go in more places than ever before – which is great news, especially in a tournament year when quality streaming will be in high demand.
"Our recently announced lead partnership with Wembley Stadium also means we are an official supplier to The FA Cup, and the England team's official mobile network."
Bacon has been EE's brand ambassador since 2012 when the network launched.