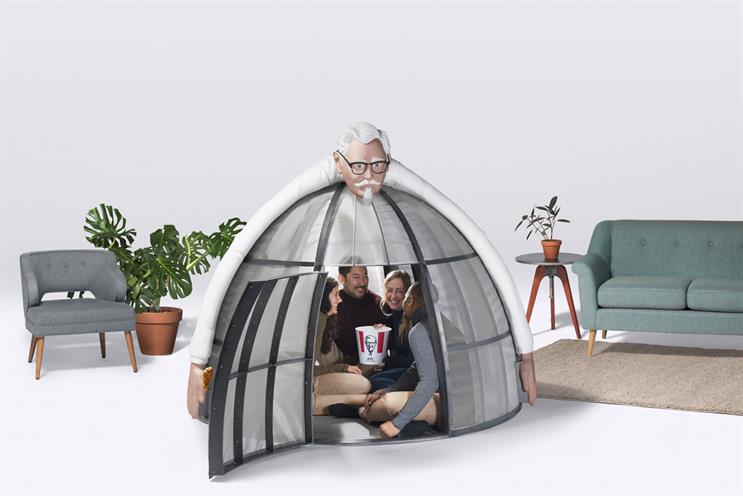 The pod, a round steel dome-shaped faraday cage filled out with high-density architectural foam, is adorned with enamel paint and the Colonel himself "embracing you with his arms".
"We've come up with several technologically advanced, creative experiences for our customers and fans this year. But even we feel the burden of technology during the holiday season. So we decided to go in the opposite direction and create an anti-technology product, using technology, to help one lucky buyer literally escape the holiday chaos," George Felix, director of advertising, KFC US, said.
The "safe space from the internet" is designed to protect users from:
Cyber Monday deal reminders and push notifications about discounted widgets for unneeded items
Calendar reminders about yet another holiday festivity committed to, but forgotten about
The relentless desire to check social media apps to see vacation posts and 'grams by wiser friends
Reminders from numerous dating apps about one's solo status, just like last Christmas
Jolly Christmas music, which according to a psychologist reminds one of one's holiday to-do list
Nagging and unrelenting texts from mom
As proof that KFC is very likely not taking this too seriously, the Internet Escape Pod is selling for $10,000 (£7541.50) on KFC Ltd - the brand's e-commerce store that sells other desirable merchandise such as fried chicken-themed apparel and home goods.
"We were going to sell this for the ridiculously high price of $96,485.34, but in the spirit of the season, I said, 'nah, let's make it a deal,'"Felix, said.
KFC promises to launch another collection of items on its shop in early December, just in time for Christmas.
Its US agency of record is Wieden+Kennedy.