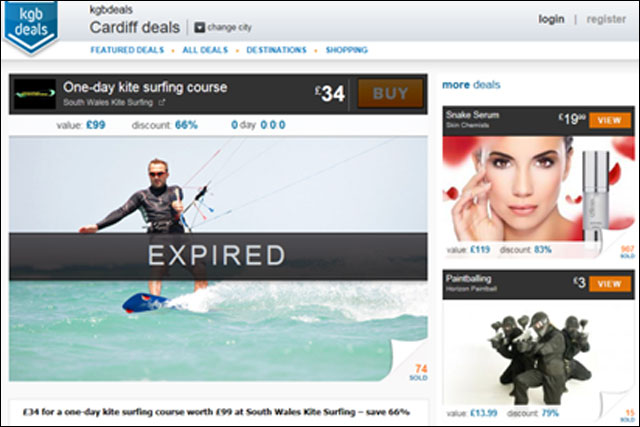 The first ad to be banned is for a kitesurfing course worth £99 with a saving of 66%. The complainant questioned whether the ad was misleading because terms and conditions, which included additional fees for weekend courses, were not made clear.
KGB said this was due to an administrative error, because it did not have a signed contract with South Wales Kitesurfing (SWK) and the kitesurfing company did not respond to its requests for one.
The ASA ruled that the promotion failed to make clear that the offer was only redeemable on weekdays, or that consumers would need to pay an additional charge of £10 per person for the weekends, making the ad misleading.
It also noted while the ad stated the offer ended on 31 August, it actually ended on 1 August and the complainant was not informed.
The second KGB ad banned was for a discounted hotel break for two nights in Exeter, for two, priced at £129, with a 63% discount, including breakfast and a bottle of wine, in a deal worth £348.
The Vale of Glamorgan Trading Standards department challenged whether the break was in fact worth £348.
In its defence, KGB said the deal was based on an email from the hotel saying the room was £150 per night and breakfast £10 per person per night, adding up to £340. It did not provide evidence of the price of the wine.
The ASA said that while the email proved the pricing for the deal added up to £348, it found that the maximum price on the hotel's website was £106.25. KGB was unable to provide evidence that it had sold rooms at the invoiced price given in the email.
It ruled that in the absence of documentation, the ad was misleading and was banned in its current form. KGB did not respond to a request for comment.
This year, the ASA has received 80 complaints in total about 79 KGB Deals ads. This compares to 28 complaints about 28 LivingSocial ads and 24 complaints about 23 Wowcher ads.
The ASA has received 211 complaints about 211 Groupon ads since January. A large proportion of these have been passed straight to the Office of Fair Trading (OFT), if they relate to matters concerning the undertakings given by Groupon as part of the OFT's recent investigation.
Earlier this month, Nectar, the loyalty program announced it was moving into the daily deals market with its own service. It plans to leverage the "trust" consumers apparently feel towards the brand, to give it an advantage.
Follow @shearmans