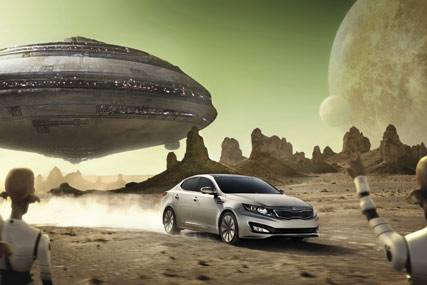 The company, which has now been importing cars to Europe for 20 years, contacted agencies earlier this week with a request for information.
It is thought that Kia wants an agency to handle the integrated advertising campaigns for a series of upcoming car launches in the UK and mainland Europe.
The successful agency will be responsible for creating all marketing activity for the launches, including TV, digital and in-dealership work.
Kia, which last year spent £11 million on UK advertising, has a series of new models launching in Europe later this year. These includes the Rio, a hatchback looking to rival the Ford Fiesta and Vauxhall Corsa, and the Optima, a new saloon car that will replace the Magentis in Kia's UK line-up. Both models are due to rollout in Europe in the autumn, as part of Kia's bid to position itself as the "sporty" alternative to its Hyundai parent.
Kia currently uses David & Goliath London to handle the majority of its advertising in the UK. The car manufacturer was the agency's founding client when it opened its doors in London in February 2009. In the US, David & Goliath has worked with Kia since 2004.
Most recently David & Goliath launched an outdoor campaign for Kia to promote the manufacturer's Sportage SUV model.
Last year the agency also created a series of idents to promote Kia's sponsorship of ITV's broadcast of the 2010/2011 FA Cup. The idents featured three characters, Keith, Ian and Andy, as they traveled to a football match.