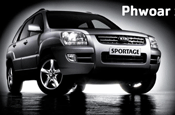 The Korean car brand has approached several shops both in the UK and overseas. Kia's marketing team based at its head office in Seoul will handle the review.

Kia currently manages its below the line advertising on a market-by-market basis, with Haygarth handling the business in the UK. It is not known whether Haygarth will repitch.

The company is understood to be seeking an agency with a global presence in order to centralise its direct marketing and CRM strategy ahead of ambitious growth plans.

The marque has recently upped its annual UK marketing spend to £18 million in a bid to increase local market share from 1 to 3 per cent.

A spokesman for Kia said: "There is a process underway to appoint an agency to handle CRM strategy. The remit will be to assess where each individual market is up to in terms of their CRM activity, with a view to introducing one strategy that will apply pan-regionally but will allow for flexibility within each region."