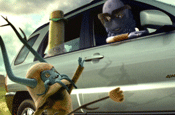 The review covers media activity across all corporate campaigns planned from Kia's centre in Korea. This includes global campaigns featuring the Spanish tennis star Rafael Nadal, who is currently the face of the Kia brand.
Vizeum handles the media for the car company's corporate activity in many European markets, including the UK. It has worked closely with Kia's in-house agency Innocean, which produces creative for the corporate campaigns and coordinates media activity.
Kia's local market media planning and buying, which is handled by OMD across Europe, is not included in the review. The OMD-owned agency M2M handles the £20 million UK account.
Spend on Kia's international corporate activity varies widely depending on new car launches and its sponsorship of major sporting events. Through parent company Hyundai, Kia will be a sponsor of the 2010 and 2014 football World Cups.
The Kia corporate media review follows news of a pitch in the US to consolidate the combined $800 million US media accounts for Kia and Hyundai. Kia is also holding a global direct marketing pitch (Campaign, 21 September).