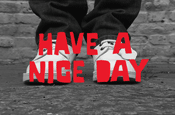 It is understood the company has shortlisted two undisclosed agencies to pitch for the account.

The pitch, which is being handled by Creativebrief, will take place later this year due to internal changes in its marketing department. Kickers' marketing director, Simon Jobson, left his role last month to join Lacoste.

Kickers, which was founded in 1970, is seeking to reconnect with the youth market and bolster its appeal as a young, street-savvy, irreverent brand. A key objective of the brand's planned campaign will be to drive traffic to its e-commerce website and boost its connection with music.

Kickers launched its most recent "meet the Kickers" campaign across the national press in March this year.

The ad, created by Odd, the creative arm of Naked, showed sets of paper-legged characters to reflect different personalities in its shoe range. One showed a male pair of legs lifting a girl on tiptoes with a speech bubble from the couple reading: "Happiness stitched in." In the campaign, the brand updated its endline of "do something" (developed by its previous agency Karmarama) to "meet the Kickers".

In April, Kickers launched a digital push, which included paid search, social search and a microsite and was created by the digital marketing company iCrossing.