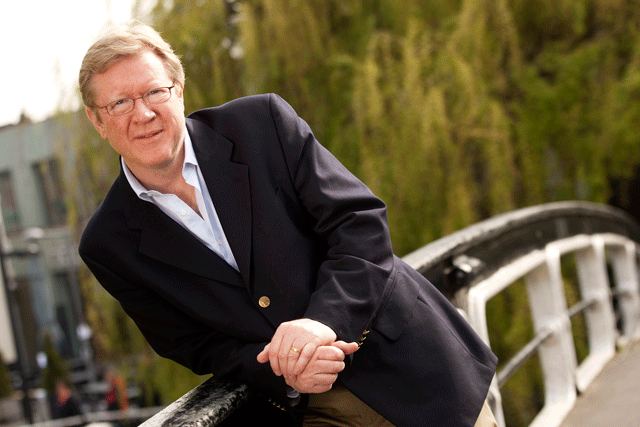 The first thing to get straight is the handle, the nickname, the call sign if you will. He certainly doesn't use his full name David Jensen, which flags his Danish bloodline, but 'The Kid' or simply 'Kid'.
Today Media Week is here to meet a broadcasting legend – although he recoils in horror at the term – who has spanned public sector radio (Radio One) and commercial radio (Radio Luxembourg, Radio Trent, Capital Radio) and brought a new kind of "progressive" music to the UK shores when he landed here in just his late teens and was immediately introduced to heady sixties world of The Beatles and The Rolling Stones, who Kid joined on tour for "half a dozen dates" in 1973.
Kid now resides on the drivetime show at Smooth, which has recently hit the national headlines due to its impending purchase by radio giant Global Group, where both Smooth and Real Radio could sit alongside Capital and Heart, if the purchase is approved.
Guided down the rabbit warren of head-height corridors that make up Smooth's Mayfair offices, we arrive at Kid's desk, where he sits in a crisp white shirt and suit jacket. Then we are led to the boardroom and, one would suspect for comic relief, Kid says he has never been in there before.
He has been at Smooth since April last year, but only took over the drivetime slot this April, taking over from the singularly named Carlos. Last year, he took the Arqiva Lifetime Achievement Award for his services to radio.
Rollercoaster ride
It's fair to say that Smooth has had a bit of a rollercoaster ride in the industry barometer Rajars of late. Nationally, the station had an average weekly reach of 3.3 million listeners a week in Q2 2012, up 1.6% year on year, but down 1.7% quarter on quarter, and an average of 25.5 million listening hours, up 5.0% year on year and 1.6% quarter on quarter.
However, in London, Smooth drastically dropped in reach from 626,000 listeners in the first quarter, to 385,000, a 38.5% fall. In year-on-year terms, it was down 20.8%.
There are obvious ups and downs in any set of Rajar results. However, in fact there are more ups and downs than a knackered lift, and that is not to say that Smooth hasn't found its voice among its demographic.
Kid says: "[The market is] fiercely competitive, and what drives most of the stations is the music choice and the music choice is a very delicate and sensitive issue.
"It's not about what you play that gets you noticed, it's what you don't play too that gets you noticed, and the Smooth balance is about playing older music without sounding like an oldies station, so it's melodic and soulful in nature.
"We would play Nell Bryden, Paloma Faith and Rumer, alongside melodic stuff from Stevie Wonder or George Benson or Kool and the Gang, and it's about getting that balance right, which nobody has done before in terms of programming."
Great to be back on FM
Prior to Smooth, he had spent eight years in what could be construed as the AM wilderness, on Capital's Gold Network, the very definition of an oldies station.
You can tell that Kid is excited to be back on home turf again on the FM band, and it doesn't take him long to vocalise it and reference drivetime when prompted.
"It's great to be back on FM again around the country, despite the fact that digital is a growing medium or listenership. Still, that in-car listening that is very important to what I do at drivetime is mostly people listening on FM on their car radios," he says.
Although, having been in that AM shade for so long, you can tell that on some things he's running to catch up, but that should be seen as endearing, not a slight, at least he's honest about it.
In the world of radio, it's no longer about just broadcasting to an audience – you have to connect with them too.
When he talks about the connection with the Smooth audience, it seems like an opportune time to ask Kid about his social media habits.
He says: "The station has a Facebook page where all the presenters are asked to contribute and be a part of. I must admit, I'm a little bit lazy in the Facebook and Twitter arena, and I should really work a bit harder at it as it is obviously valuable in terms of a promotional tool, it's fantastic."
And it is easy to forgive as both Smooth and Real have a dedicated social media team among its producers, but its nice of him to admit it.
For this man, the show is king, and he should know how to put a decent one together by now because, despite his youthful appearance – and you would suspect he doesn't want to get rid of the nickname any time soon – hides the years, he turned 63 just last month. He's clearly plugged in when talking about platforms and has worked on FM, AM and digital here at Smooth and with a short stint on Planet Rock.
"I don't think the show changes in the fact its on FM, digital or online. I think the show is the show and it doesn't really matter how the show is being brought to you. So I don't consciously think that I'm going to say something just for digital listeners now, because everything is open for anyone to listen is at any time. It's really a level playing field," he says.
Important to be a station ambassador
His show has just recently picked up its second burst of activity from lead sponsor Foxy Bingo, and Kid quickly picks up on the fact he is talking to Media Week and changes his conversation to address commercial matters, something he sees as key to radio's future and something he thinks DJs are becoming increasingly involved in the commercial aspects of the station.
He indicates that it's not a new practice for the DJs to get involved in sponsorship activity.
"When I was 16, working on local radio in Canada, it was not uncommon for a DJ to come off air and then go and try and sell airtime, so the DJs would be salesmen as well and earn commission selling," he says.
Although things don't go that far nowadays (but you never know, if Global Group chief executive Stephen Miron gets his way), Kid says: "It's important to meet with the sales team and through them, meet existing sponsors and potential sponsors and advertisers."
It's not like he's new to the more promotional aspects of the commercial networks he has been involved with. In fact, Kid set a national benchmark years ago with the groundbreaking work that his team did for Capital Radio's Network Chart Show.
He says: "Previously, I'm best associated with national advertising for Nescafé when I was involved in doing the Network Chart Show, and that involved doing a lot of extra-curricular promotion and activity, and being available for Nescafé to do promotions as well as doing my radio work, and that was a 10-year partnership."
His drivetime show on Smooth is currently sponsored by online bingo site Foxy Bingo, who he is happy to collaborate with on their campaigns due, to the client's love of radio.
Kid says:"Brands like Foxy Bingo will ask me if I am happy doing X, Y or Z for them and I can't think of a time when I have said 'no I wouldn't be happy', because in what is an incredibly tough climate for everybody and working in the commercial world, it's great to have Foxy on board. It's a fun, upbeat brand and that suits the nature of Smooth.
"Foxy Bingo is now in its second year with us, and what's great about them is that they love radio – even though they're on TV, they really love the radio contact."
Radio Luxembourg
Kid got his proper UK break, somewhat ironically, by broadcasting across the sea from the Grand Dutchy of Luxembourg on pioneering Radio Luxembourg, which at the time had one of the world's largest transmitters, allowing it to broadcast to the UK. And boy, does he become animated when he talks about his time at a station that made history and tracked most of the 1960s.
In fact, Kid gets so animated he occasionally, and accidently, kicks the glass coffee table when describing his time with some of the legends of rock.
"Radio Luxembourg was fantastic, it was like joining The Beatles. As an 18-year-old coming from Canada, there was Radio One by day and Radio Luxembourg by night, and Luxembourg had this massive transmitter, which used to broadcast all over Europe," he says.
"I remember Joe Walsh, who is now with The Eagles, when he was with another band, came over from Cleveland, Ohio and he was so excited to be on Radio Luxembourg because he listened to it on short wave, that he asked for a special card that short wave buffs get to authenticate the fact that they had been to the station."
The Beatles and The Stones
He reveals that the first interview on Radio Luxembourg, for what must have been an awestruck teenager, was with The Beatles' drummer Ringo Starr.
"In fact, we had a great association with The Beatles and we used to get first plays of all their singles and flexi-discs of their annual Christmas message to the fans and those kind of things," he says.
"They used to send Apple ashtrays and bona fide memorabilia from their Saville Row offices, which I used to give away – acetates for example, which was an early promotional disc that only had about 50 plays before it was worn out and I would give them to people thinking that I could get a proper one the next time.
"Of course, now I'm thinking 'God, what an idiot', looking back on some of that memorabilia that I gave away to fans and not realising their value all those years ago…that wasn't the cleverest thing I've ever done."
However, it's the Liverpool legends' main rival he actually got to spend the most time with. It's a leading question, because Media Week has already been primed: "Yes, I toured with the Rolling Stones for half a dozen dates."
When asked if the infamous rock group behaved themselves on the tour, Kid confirms, with a simple, "not really." He is quick to add a caveat during the laughter that follows: "some did, some didn't…so much."
All of this was done in the name of radio and this man has been a stalwart across the sector. Whether it is working on FM, AM or digital or public sector radio or commercial, Kid has worked in the different types of radio and across an array of demographics, never losing that infamous nickname.
He's managed to avoid the 'Smashey and Nicey' comparisons throughout his career by doing what he's best at – playing good, solid music, and you get the feeling that he doesn't care if that's fashionable or not because, as we know, fashion is cyclical and you feel that he is in a renaissance, a purple patch if you like, at Smooth.
As for the future, that very much depends on the station's new owners, but you sense that they'd be remiss to change this particular member of the team, for his profile if nothing else – it's pretty clear that this should be one Kid that stays in the picture.
Follow @Banham72