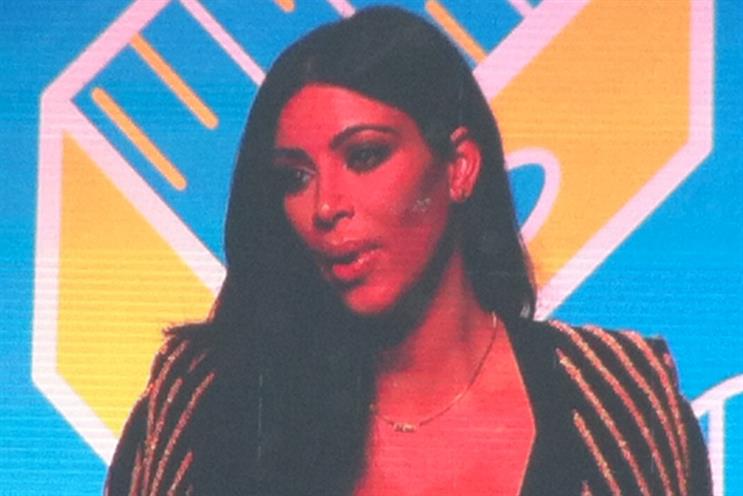 I'm not going to promote something unless I genuinely love it
Last year Kanye West took Cannes by storm with his thought-provoking but sometimes mystifying views on branding and the cult of celebrity.
This year it was the turn of his wife, Kim, in town primarily to promote her phenomenally popular mobile game, Kim Kardashian: Hollywood, which allows users to virtually live her life.
Such was her pulling power at Cannes that not only did she pack out her session room but more than 100 hardy conference goers braved the baking sunshine to watch her via an outdoor screen.
Her talk covered, her game, social media strategy, the commercialisation of Instagram, and how to create authentic celebrity tie-ups.
Appropriately, she ended it with an Oscar-style selfie with the audience.
Kim on how she does social media
Asked by a member of the audience to explain her social media strategy, Kardashian replied: "I don't have a strategy and I don't have a team. I'm not knocking anyone that does that but I don't find that to be authentic."
She revealed that she may have played a part in a change to Instagram's functionality. Kardashian contacted the platform because she was getting frustrated at not being able to edit picture captions after posting, then a couple of months later this became possible. "I'm not saying it was because of me," she added, coyly.
Kim on hating promotional Instagram posts
"I'm not going to promote something on it unless I genuinely love it," is Kardashian's stance on Instagram. She said she often includes brands she likes in posts but has no commercial relationship with and is wrongly accused of advertising them.
She said there was "nothing more that I can't stand" than promotional posts on Instagram.
Kardashian admitted that in the past she had "done deals that didn't make sense for my brand" but said she was now more discerning about her tie-ups.
Kim on her passion for her game
Kim Kardashian: Hollywood, which has just signed up fashion designer Karl Lagerfeld as a partner, has some impressive stats. It has 22m users across 155 countries, who have taken part in 1bn sessions. The average usage is 26 minutes a day.
It may be a massive success now but she was unsure whether to get involved after being approached by its developers, Glu Mobile. That was until some marital pressure came to bear.
"It was actually my husband who talked me into it," she said, saying that West thought it would be "so cool, so fun".
Kardashian made it clear her involvement with the game went way beyond a badging exercise. She speaks frequently to Glu so that it can be updated frequently to mirror her fashion and trips abroad.
'It really is a full-time job and I take it extremely seriously,' she said.
---
Recommended