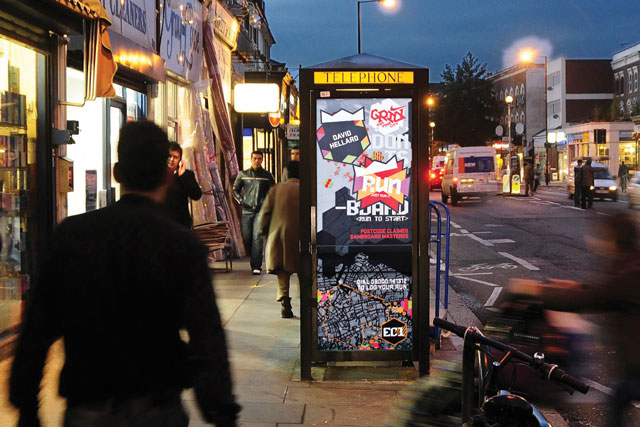 The awards, which are held in association with Haymarket Brand Media, were presented in front of more than 200 guests at Circus in Covent Garden last night.

The 'Nike Grid' campaign, for which the agencies also won the Best Use of Innovation in Outdoor category, helped the brand engage with young runners by turning London's streets into a game board.

Kinetic and MediaVest won Best Use of Outdoor in a Multi-Media Campaign for the Fosters 'Good Call' campaign.

Kinetic was also awarded alongside IPG outdoor specialist IPM and IPG media agency UM for Best Use of Continuity in Outdoor for H&M.

Aegis-owned specialist Posterscope won two awards, including the Best Use of Multiple Formats in Outdoor with Manning Gottlieb OMD for Renault Wind Roadster's '12 Second Strip' campaign.

Its other win was with MPG Media Contacts in the Best Use of Roadside category for the Conservative Party's pre-election campaign.

The awards presentation drew guests from agencies, clients, outdoor specialists and judges, who included Procter & Gamble's corporate marketing director Roisin Donnelly, Vodafone brand director Danielle Crook and Clear Channel chief executive Matthew Dearden.

Caroline Marshall, chair of the judges and executive editor at Haymarket Brand Media, said "Nike GRID, a powerful collaboration between Mindshare, Kinetic, Wieden & Kennedy and AKQA, stood out as our overall winner for several reasons.

"It was a fresh, impactful and premium idea, dripping with planning insight, built around laser-sharp targeting and making intelligent use of technology."

The winning planner was presented with a luxury European short break for two including travel and accommodation, while Nike will receive £30,000-worth of space on ClearChannel's Pinnacle or digital formats.
Full Results

Grand Prize Winner

'Nike Grid'
Client – Nike
Agency – Mindshare
Specialist – KineticWorldwide

Best Use of Outdoor in a Multi-MediaCampaign

'Good Call'
Client – Foster's (Heineken)
Agency – MediaVest
Specialist – KineticWorldwide

Best Use of Multiple Formats in Outdoor

'12 Second Strip'
Client – Renault Wind Roadster
Agency – Manning Gottlieb OMD
Specialist – Posterscope

Best Use of Continuity in Outdoor

'H&M Continuity'
Client – H&M
Agency – UM London
Specialist – KineticWorldwide and IPM

Best Use of Innovation in Outdoor

'Nike Grid'
Client – Nike
Agency – Mindshare
Specialist – KineticWorldwide

Best Use of Roadside

'Pre-election campaign'
Client – The Conservative Party
Agency – MPG Media Contacts
Specialist - Posterscope